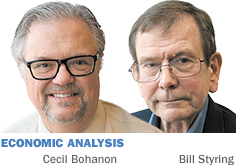 All is not well in the hallowed halls of academe. Tuition, room and board costs are rising faster even than medical prices. Grade inflation is rampant. Academic standards seem to be falling. Campuses run amok with political correctness. Add to this the unprecedented debt loads college students are piling up and it is apparent to those both inside and outside the academy that things are going to change. Yet there is no real consensus as to what that change should look like.
One particularly bad idea just floated by members of the House of Representatives is to raid the endowments of rich colleges. Endowments at American colleges and university top half a trillion dollars. Over half of this is held by just 24 universities. Proponents claim that surely this is "too much." So Congress is "investigating" how these endowments are used and proposals are being floated to impose taxes on the gains the funds earn. Let's redistribute this wealth so as to provide more college access for lower-income students.
Label this one another project from the Good Intentions Paving Co.
Secure and stable private property rights are the hallmark of our economy and the bedrock of our civilization. Part of a property right is the right to dispose of one's wealth as one see's fit. Perhaps the Pierponts are naive, misguided and misinformed when they donate their millions to the endowment of their favorite Ivy League school. Perhaps they are vain when the third swimming pool on campus is named in their honor.
However, if government starts taking the wealth that flows from philanthropic contributions and reassigning it to the uses a legislature favors, we can be sure there will be less philanthropy. But the damage runs deeper than simple incentives. Trust in the basic institution of private property is eroded.
Bohanon and Styring are not Ivy League boosters. Yes, those schools house great scholars and have wonderful facilities. We think their undergraduate education is often overrated, especially at their prices. A bright 18-year-old and family will want to think long and hard before taking on a debt load to attend these schools. Nevertheless, the endowments of prestigious schools belong to those schools. As long as they are used to advance the educational and research missions, the legislature has no business interfering with their operations or in seizing their assets for other purposes.•
__________
Bohanon is a professor of economics at Ball State University. Styring is an economist and independent researcher. Both also blog at INforefront.com. Send comments to ibjedit@ibj.com. 
 
Please enable JavaScript to view this content.