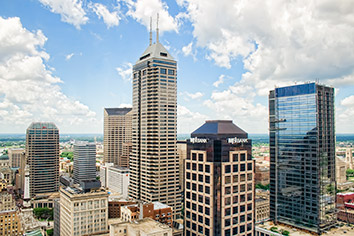 Tech talent and naming rights on the state's tallest building were key factors that helped Indianapolis secure an 800-employee hiring commitment from Salesforce.com this month, a deal more than a year in the making that is expected to have an outsized impact on the city for years to come.
The company was effectively engaged in two sets of negotiations that ultimately dovetailed to the benefit of Indianapolis: One involved the jobs expansion; the other involved stakeholders at the 48-story Chase Tower—namely building owner CommonWealth REIT and tenant New York-based Chase Bank. The tower will be renamed Salesforce Tower Indianapolis next year.
On the real estate track, Chase Bank was looking to unload space it was obligated to pay for even though it was going unused. Salesforce was willing to assume that space, sources with knowledge of the situation said, but only if it could adorn one of the tallest buildings in the Midwest with its sky-blue cloud logo.
On the jobs track, Salesforce was seeking to grow in a city where it felt the quality of talent was rich. It had considered six other locales, sources said, including Atlanta. But Indianapolis, which bred ExactTarget Inc.—the digital marketing company Salesforce bought for $2.5 billion in 2013—ultimately won out.
"It's pretty cool considering how many people bemoaned the acquisition initially," said High Alpha partner Kristian Andersen. Critics of the sale said, "'Well, that's it. Our big superstar success story just got bought and they're going to shut it down and move the jobs … .'
"But the reality has set in and what's the reality? The reality is that [Salesforce is] so bullish on this ecosystem that they're taking what is already their second-largest office globally and increasing it by at least 50 percent."
Andersen
Salesforce, which sells cloud-based customer-relationship-management software, is one of the fastest-growing technology companies in the world. It generated $6.7 billion in revenue in the fiscal year that ended in January, up 24 percent from a year earlier, and projects at least a 22 percent increase this year.
Salesforce has a so-called "sales cloud" and a "service cloud," which denote software platforms for salespeople and for customer service agents. It bought ExactTarget to create a "marketing cloud," designed for marketers.
The company employs 1,400 people in Indianapolis, many of them marketing cloud workers. But its 800-job expansion plans here include positions across all Salesforce divisions—roles expected to pay an average of at least $80,000 annually.
Big hurdle
The deal nearly didn't happen. While Salesforce officials declined to comment for this story, Salesforce Marketing Cloud CEO Scott McCorkle acknowledged at a May 6 press conference that the passage of the Religious Freedom Restoration Act in March 2015 threatened to derail the city's hopes of landing the expansion.
"We saw growth; we saw the opportunity for future investment," McCorkle said. "When we said that future investment was not possible because of the original RFRA, we knew what we were talking about."
Opponents of RFRA lambasted it as authorizing discrimination against the LGBT community. McCorkle was one of the first executives to voice the outrage that led lawmakers and Gov. Mike Pence to approve a so-called RFRA fix. The change specified the law couldn't be used as a defense for discrimination.
That was enough. Sources close to the deal said, ultimately, RFRA was hardly a factor in the company's discussions about expanding in the city, especially given Marion County's long-standing human rights ordinance that protects people based on sexual orientation and gender identity.
Late last year, Salesforce started surveying cities for its expansion goals, sources said, specifically its six largest U.S. locations: San Francisco, New York, Chicago, Seattle, Atlanta and Indianapolis.

McCorkle
The biggest factor in the company's choice was the quality and cost of talent, sources said, followed by corporate tax considerations. Indianapolis performed well on both fronts.
Atlanta was competitive, sources said, due to Georgia's "cash deal-closing fund," a discretionary pool of grants and tax credits that can be used when a company wants just a little more in incentives to locate in Georgia.
But the primacy of the talent factor—and more than$17 million in tax incentives and training grants offered by state and local officials in Indiana—helped Indianapolis win out.
"Economic development in the 21st century is in no small measure about talent," said Indianapolis Mayor Joe Hogsett, who didn't steer the talks but exchanged many phone calls and texts with McCorkle, a fellow Rush County native, during the process.
It's "talent attraction, recruitment and retention," Hogsett said, "because, if you have a talented workforce living in your city, businesses will come."
Real estate talks
Salesforce, which occupies three buildings downtown, has been looking for additional real estate since at least September 2014, when CEO Marc Benioff said he wanted to build a tower here.
That never panned out, in part because Indianapolis has relatively high office-vacancy rates downtown, real estate sources said.
Meanwhile, Chase Bank was paying for multiple empty floors in its tower, a product mostly of the closing of its national student loan division a few years ago. The bank had been under contract for about one-third of the 905,000-square-foot building until 2025, IBJ reported four years ago.
Last spring, brokers with Jones Lang LaSalle, the building's leasing agent, decided to play matchmaker. Salesforce offered to assume Chase's empty space, but Chase Indiana Bank President Al Smith said that, "in order to make the transaction work, they wanted to brand this building and put their name at the top."

Smith
Real estate sources said the naming-rights issue was the biggest sticking point.
Smith declined to detail the chronology and tension points in the discussions. When asked if it was painful to see the Chase logo dethroned, he said, "We got what we wanted. [Salesforce] got what they wanted. The landlord got what it wanted. The city got 800 new employees. So, again, you have to be in agreement with all aspects of the transaction if you're going to close the transaction."
He added, "Just like any real estate transaction, it has its ups and its downs and its ons and its offs. But, speaking for JP Morgan Chase, we're delighted that it has been completed. We think it's atremendous thing for Indianapolis and we're very excited about it."
In addition to the cost savings, Chase will get investments in building improvements, security turnstiles, and Chase signage inside and outside the building. That will include new signs in the building lobby, the elevator banks, on several parts of the building's exterior, and a plaque at the entrance of the tower on Ohio Street.
Sweeping impact
Leaders in the tech community expect the expansion to have an immense local impact, both practically and symbolically.
That could start with an often-overlooked group of businesses—Salesforce partners, which help companies integrate Salesforce software into their businesses. The partners include firms like Precision Dialogue, a 300-person shop based in Cleveland that opened an Indianapolis office last September to capitalize on Salesforce's momentum.
"We are very connected with a lot of the [Salesforce Marketing Cloud] employees in Indianapolis because we worked with them through the transition," Marketing Director Katie Pickard said. "We just wanted feet on the street and a team that was literally around the corner from the Salesforce offices."
Proximity matters for those partners—including Galvin Technologies and Appirio—partly because it helps the companies collaborate on product demonstrations, meetings, events and more.
Appirio, with $200 million in annual revenue, has been working with Salesforce for much of its 10-year history. It moved its headquarters from San Francisco to Indianapolis last summer, about three years after opening an office here.

Pruden
"We're very bullish that they're going to sustain those jobs, they're going to be adding more," said Steve Pruden, the company's vice president for strategy and partnerships. "And we have to make sure we do nothing to interrupt that momentum either as a partner, as a city, or as a state."
Observers say Salesforce likely will poach some of its hires from other companies in town, including partners. Salesforce also likely will scoop up Indiana college graduates—who not that long ago were leaving the state for tech jobs—along with graduates and experienced workers from outside the state.
Nationwide, demand for tech talent outweighs the supply. But Indiana has come a long way from the days when it had hardly any demand. John Qualls, president of coding school Eleven Fifty Academy, said the Salesforce expansion and other recent job announcements are helping turn "brain drain" to "brain gain."
"With this announcement, it's clear that Salesforce is serious about Indy talent, and bringing more opportunities to our local workforce," said Emily Trimble, campus director for another local coding academy, Iron Yard.
"We look forward to continuing [our] relationship and positioning our graduates [and future graduates] to fill some of those jobs."
Symbolism
Tech leaders say the symbolism of putting the Salesforce logo on the state's tallest building is significant. Especially in a skyline full of bank logos, the change suggests Indy "has arrived" as a thriving tech community, TechPoint CEO Mike Langellier said.
Allos Ventures Managing Partner Don Aquilano said Salesforce's signage is "a significant beacon to folks on either coast" in the industry, and "it will only enhance the strong and growing profile of Indiana in the venture landscape."
Chris Baggott, an ExactTarget co-founder who went on to start other companies, called the news "amazing."
"When you consider that what Scott [Dorsey] and I started from a windowless Greenfield sublease has grown into the world's most important marketing technology company, [it] is incredibly humbling.
"The promise of the internet was that 'you could do this anywhere.' I can't tell you how proud I am to have been a small part of proving that true.
Please enable JavaScript to view this content.