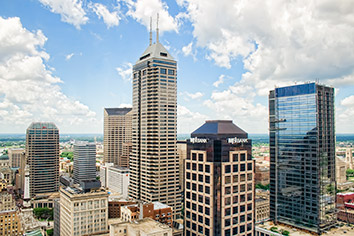 Salesforce.com Inc., one of the largest technology employers in Indiana, plans to add 800 jobs in Indianapolis and secure naming rights for the state's tallest building, sources with knowledge of the matter said.
The company is expected to announce both developments Friday morning at a press conference downtown, according to sources who spoke on the condition of anonymity. The 48-story Chase Tower could see its name change later this year, sources said, while the jobs will be added over the next several years.
IBJ reported in March that Salesforce was negotiating a signage deal for two or four sides of the tower's peak, as well as up to 400,000 square feet of space in the 905,000-square-foot building.
The expected announcement caps, in the most definitive terms, what Salesforce Marketing Cloud CEO Scott McCorkle had been stating for months: That Salesforce would grow its roughly 1,400-person Indiana workforce by 50 percent or so in the next several years.
It also suggests that the San Francisco-based tech giant is highly interested in bolstering its presence in what is already its second-largest U.S. location, despite its high-profile dust-up with the state over the passage of the Religious Freedom Restoration Act last spring.
The average pay for the Salesforce jobs was not immediately clear, but wages for technology companies that have previously made job commitments in Indiana have far exceeded average state wages. Last year, the average wages for committed jobs attached to state tax incentives was $24.87 per hour.
Indianapolis is one of the fastest-growing technology hubs in the country, and the Salesforce's announcement could boost that momentum. According to CBRE Research, the city grew high-tech software and services jobs 18 percent between 2012 and 2014, the latest year of available data, placing it No. 8 out of 30 cities surveyed.
But demand continues to outstrip supply here, and it remains to be seen how quickly Salesforce can meet its job targets. Indianapolis-area employers posted 17,578 tech job openings in 2015, according to Burning Glass, up from 6,993 postings in 2010.
 
Please enable JavaScript to view this content.