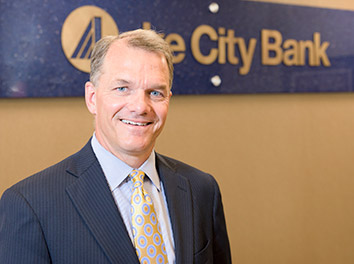 Lake City Bank is among the fastest-growing banks in the state, but it's been expanding particularly rapidly in Indianapolis. It had $57 million in local deposits in 2012, and more than quadrupled that to $270 million in 2015. It had no presence here five years ago, but now has four branches and is looking to add a fifth.
Unlike some other banks, Lake City did not enter this market though acquisition. David Findlay, 54, CEO of the $3.8-billion-in-assets bank, said it doesn't plan to buy banks to continue its growth.
IBJ: A lot of banks enter new markets through acquisitions, but you have essentially built your branches from scratch. Why?
FINDLAY: We're pretty confident that our organic growth strategy is the best opportunity for the creation of shareholder value. As a public company, we're clearly driven by what our stock price does and, over the long term, we've demonstrated a track record that supports an organic strategy of growth with essentially one office, one banker and one client at a time. And it has created not only shareholder value, but long-term sustainability for the business model.
We think the merger-and-acquisition model presents opportunities for growth, but there's an awful lot of challenges that come with an acquisition-driven growth strategy.
IBJ: A common drawback of organic expansion is that it takes a lot of time, but Lake City has seen pretty rapid deposit growth in this market. How do you explain that?
FINDLAY: Our focus on the branch-development process is multi-tiered, and when we make a decision to invest in a new branch, we do an awful lot of analytical work to ensure that that office has proximity to our retail client base, our commercial client base and high visibility to the potential clients of Lake City Bank.
So we don't build offices in locations that would be considered second-tier locations such as end-caps on strip centers or in grocery stores. We really focus on stand-alone buildings that make a statement of permanence and a statement of our commitment to the communities we operate in.
I think our deposit growth is a reflection of the type of employees we hire at Lake City Bank. An important component of our culture is being focused on clients and client needs.
IBJ: What type of loan makes up the biggest chunk of your loan portfolio?
FINDLAY: Our loan portfolio is very commercially intensive—about 90 percent of our portfolio [is] commercial and industrial loans. We certainly originate traditional mortgages and consumer loans, but the loan portfolio itself is very focused on the commercial-lending side of the business.
IBJ: The economy has run in fits and starts since the recession ended, and that has an impact on how hungry people and businesses are for loans. What have you been seeing on that front?
FINDLAY: We're pretty comfortable that we have a strong and expanding economic base in central and northern Indiana. While there may be some pockets of weakness on the larger manufacturing and industrial side, our focus is on middle-market manufacturing and industrial borrowers. And we've seen, consistently, improving strength of economic conditions for those borrowers and their businesses.
IBJ: It appears that a Federal Reserve interest-rate hike might be coming soon. What does a slow and gradual rate hike mean for your operations?
FINDLAY: In the banking industry, we've got what is referred to as an asset-sensitive balance sheet and, because loans are our assets, an increase in general interest rates would contribute to the potential for improved profitability and growth in our net interest margins. So we would benefit from the Fed taking action and increasing interest rates, and we would suggest that the economy, at least regionally where Lake City Bank operates, is at a point where a step up in interest rates would not be negative.
IBJ: What hot technology is your bank embracing or looking to develop?
FINDLAY: Well, you can't effectively compete in today's banking industry without having a forward-looking view on technology and its use for clients. And if you look, we've actually been an early adopter of a number of evolving technologies. We were one of the first banks in the Midwest to use what is called image technology for check processing, and that goes back 15 years. Instead of moving physical checks around from branch to branch, we moved them electronically. We were an early adopter of mobile banking.
We are using interactive teller machines in the system, and we're putting them in places where we believe the client base and the business environment [are] conducive to the use of those machines. But we've also got a core view that says technology can never replace a client relationship with a personal or commercial banker.
IBJ: Tell me more about your interactive teller machines.
FINDLAY: It's a video teller machine where you can do more than 90 percent of the transactions that you could do in a live teller line.
We implemented our first interactive teller machines in mid-2015 here in our Warsaw main office, and we've added on with the opening of our downtown Fort Wayne office, which occurred in early 2016. And the next step with our interactive teller machines is to start to employ them in high-volume drive thrus where we think they can be a benefit with the speed and flexibility advantages over traditional drive thrus.
IBJ: What are your ambitions for Lake City Bank overall over the next few years? Are you looking to top $5 billion in assets soon?
FINDLAY: We don't set size objectives. The growth in the balance sheet comes from taking care of customers day in and day out. And when you do that, you get natural opportunities to grow.•
Please enable JavaScript to view this content.