Nathan Robbins gives two of the best performances you are likely to see on a local stage in Phoenix Theatre's "Hand to God" (through July 17).

Phoenix fans might recall Robbins from his turns in "One Man, Two Guvnors" and "The Cripple of Inishman," but neither of those charismatic performances compares to his virtuosic work in "Hand to God" as a young man whose puppet might or might not be possessed.

As both the flop-sweat-prone teen Jason and his uncooperative alter ego, Robbins creates a pair of unique characters who engage in face-offs likely to cause more audience whiplash than a Wimbledon tennis match.

No, the concept isn't new. From the ventriloquist's dummy in the classic horror film "Dead of Night" to the caustic "Triumph, the Insult Comic Dog," puppets have often acted out. But "Hand to God" offers an oddly human take on the sub-genre.

Jason, you see, not only lost his father, but also is expected to participate in an awkward puppet ministry led by his grieving mother, Margery (Angela R. Plank). The emotionally vulnerable Margery is being wooed both by Pastor Greg (a nicely nuanced Paul Nicely) and bad boy Timothy (Adam Tran), while Jason is having certain thoughts about Jessica (Jaddy Ciucci), another ministry teen.

Everything is manageable until Jason's puppet, Tyrone, begins telling Jessica—in detail—what he's actually thinking. Thus the puppet single-handedly (sorry) not only promotes chaos but also raises questions about the nature of sin and issues of id.

A strength of "Hand to God" is its unpredictability, and playwright Robert Askins goes to some pretty intense—and graphic—places. Make no mistake; the laughs are big and plentiful, but this is far from just a perverse lark. It's a provocative gut-buster, briskly directed by Mark Routheir. When intermission hit, I was certain we had been in the theater for only a half hour or so—and was looking forward to the lights dimming again for an for a who-knows-what? act two.

While the depths of the material didn't seem to be mined as deeply and darkly as they could be—and the teens seemed far from teenage—"Hand to God" benefits from a smooth, clever set (credit designer Bernie Killian), and appropriately disturbing lighting design (Laura Glover). Tech at the Phoenix seems to be getting stronger and stronger.

And then there's Robbins.

And Robbins.
__________

Another edgy New York hit had its Indiana theatrical debut at Cardinal Stage in Bloomington. "Murder Ballad" (through July 3) transforms the Ivy Tech Waldron Auditorium into a semi-immersive bar setting, complete with onstage band, working bar—at least, before the show starts—and pool table/pinball machine details.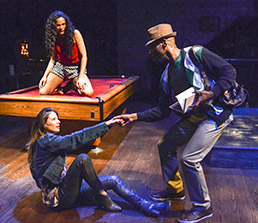 Bloomington's Cardinal Stage turns the Waldron Auditorium into a barroom for "Murder Ballad." (Photo courtesy of Blueline Media Productions)
Sara (Shaina Vencel), fresh from a break-up with bartender Tom (Will Skrip), falls in love with poet Michael (Donterrio Johnson) and the new couple quickly take the responsible route, with him landing a suited job and her becoming a mom.

But apparently the old flame wasn't sufficiently extinguished, because Sara is soon back at the bar for afternoon encounters with Tom. In song, the Narrator (Annelise Cepero) warned us in the beginning that someone was going to be killed—and, of course, the show's title was a tip-off. So the key question becomes who is going to off whom.

Cast with solid singers supported by a strong band, "Murder Ballad" is a gutsy choice for a professional company whose season also included "Mary Poppins." What other local theater demonstrates that kind of range and willingness to stretch its subscription audience?

While the choice is gutsy, the presentation comes across as mild, which works against the show's nature. Missing is the necessary steaminess. The room itself feels too spacious, lacking the claustrophobic intimacy that would make this sexual train wreck compulsively watchable (visible scowlers, cell-phone checkers, and resistant patrons in the crowd didn't help). The bar even has a "no smoking" sign—something that denies the James M. Cain/"Postman Always Rings Twice" dark-side atmosphere the piece should be able to generate. Keeping it all in the light makes it too easy to stand back.

I admire the way the show's creators don't seem to want Sara to have our sympathy. Moral bankruptcy shouldn't exclude a character from leading a musical—witness "Pal Joey." But without strong sexual energy and a go-for-it approach, there's no strong pull for the story. While "Murder Ballad" scores points for an original approach to a song cycle, too often we're just watching a not-too-bright woman make terrible choices.•

__________

This column appears weekly. Send information on upcoming arts and entertainment events to lharry@ibj.com.