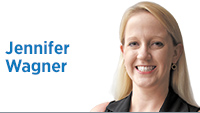 I'm over 2016.

From the stunningly non-presidential ascendency of Donald Trump to a bitter gubernatorial rematch to a U.S. Senate race that hasn't registered with most voters, this year isn't giving Hoosiers much to work with.

I don't want to talk about it. I don't want to write about it. I don't think I'm alone.

So let's focus on the future.

In two years, the banner race will be between U.S. Senator Joe Donnelly, if he seeks re-election, and one of any number of Republican challengers, likely including perennial party crasher Marlin Stutzman.

I think Hoosiers will side with Common Sense Joe, who's established a solid, Evan Bayh-like record of listening to Hoosiers and extending an olive branch across the aisle when necessary.

Still, it'll be the GOP's first chance to pick a candidate for a high-profile race after this cycle, which isn't shaping up to be great for the Republican brand. There are plenty of fresh faces and established contenders to choose from. We'll get to that in a moment.

The next big test for either party will be in 2020.

The do-over battle between John Gregg and Mike Pence will either lead to the second term of a governor who's proven unable to resist wading into divisive social issues or the first term of a governor whose main campaign message was not being the other guy.

Both outcomes present an enormous opportunity for the losing party.

If Pence is re-elected after playing job approval limbo by touching every hot-button topic imaginable in his first term, it's time for my side to have a serious conversation about what we need to do — and whom we need to groom as candidates — to avoid a next-generational stay in the political wilderness.

There are obvious rising stars like South Bend Mayor Pete Buttigieg, who deserves every ounce of national attention he's getting as a smart, engaging, visionary leader. And there's Christina Hale, a hard-working former state representative tapped to run for lieutenant governor this year. A loss would not diminish her position on our bench.

House Democratic Leader Scott Pelath has a lot going for him if he ran statewide, and a victory for Shelli Yoder in the Ninth District would rocket her to the front of the pack. And then there are those who are not yet in political office. What future stars might Indianapolis Mayor Joe Hogsett be incubating within his administration?

Unfortunately, Democrats face a bittersweet reality even if we win back the governor's office. We'll make gains in the Indiana House this year, but without new maps in place — preferably drawn by computers or a nonpartisan group — there's not much hope of returning to the majority in either chamber in the near term.

That means a Gregg victory would transform the party and usher in leadership opportunities, but it might not lead to much actual change.

Why would Republicans give him any victories when so many of them have their eye on the 2020 prize? After all, they've shown a political willingness to buck Pence's authority, and he's on their side.

The GOP has a real chance in four years to lift up folks who could increase the party's appeal with moderate voters.

Think State Treasurer Kelly Mitchell, Congresswoman Susan Brooks, LaPorte Mayor Blair Milo, Fishers Mayor Scott Fadness, Evansville Mayor Lloyd Winnecke or even former Indianapolis Mayor Greg Ballard.

No matter which side you're on, have hope: The sun will rise on Nov. 9, and we'll be off to the races again. What's ahead certainly looks more promising than what we're experiencing right now.•

__________

Wagner is a lifelong Indianapolis resident and founding principal of Mass Ave Public Relations, a local public relations and publicity firm. Send comments on this column to ibjedit@ibj.com.