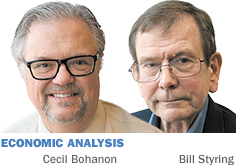 On day one of the Republican Convention, Hillary Clinton was in Minneapolis lambasting Mike Pence as "the most anti-public-education politician in America." The occasion was an American Federation of Teachers rally. His transgression? Expansion of Indiana's school choice program, particularly education vouchers. Pence needn't apologize. Ends up a lot of rank-and-file Democrats and Democratic governors are OK with educational choice. It's not as partisan as some like to think.
The current system of K-12 public education traces its roots to the one-room schoolhouse. The horse-and-buggy transportation technology of the time pretty much ensured a single provider of education within a geographic area. Nothing wrong with that then, but increased urbanization and transportation innovations means the old organizational model of K-12 education need not prevail today. In fact, if the K-12 model were used in the provision of any other government entitlement or service, we would consider it bizarre.
Here's an easy example that illustrates our point. Suppose we have a burst of progressive fervor and decide good nutrition to the young is so important that we must supply free government-approved food to all kids age 6 through 17. We pass a law requiring parents obtain the food under threat of penalty of law.
Along comes Progressive Politician Pete. PPP says, "Hey, I have a great idea for organizing the food delivery system. We'll carve up Indiana into 292 Government Supermarket Districts. Each district will operate a chain of government supermarkets staffed by civil servants almost impossible to fire. Taxpayers will pay the costs. Each supermarket will have an exclusive geographic area. All parents in that area will have to get their free 'kids' food' from that supermarket. If parents think the food at some other government supermarket is better, their only option is to move to the area of their preferred supermarket.
"Parents," says PPP, "can still buy government-approved food from a private supermarket. But in that case, they pay full freight. And they still pay taxes to support the government chain."
Now, before you scream, "This would be nuts!" every time you see the words "supermarket" or "food," insert the words "school" or "education." Isn't that a fair description of "public education" before educational choice?
If we were to pass out free kid food, wouldn't it be better to just give parents food stamps? Er, that is… "education stamps"? Better known as education vouchers.•
__________
Bohanon is a professor of economics at Ball State University. Styring is an economist and independent researcher. Both also blog at INforefront.com. Send comments to ibjedit@ibj.com.
Please enable JavaScript to view this content.