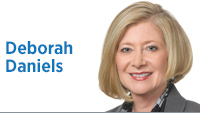 When one prosecutor brings a case based on a questionable theory, courts often issue rulings limiting the authority of all prosecutors in similar cases. Future cases, where the defendants' culpability is more clear, can be thrown out based on a decision in an earlier, weaker case. Similarly, the reliance of prosecutors on the limited immunity they enjoy or the extent of their discretion to bring a case can be endangered. Both types of cases have been litigated in Indiana, to the detriment of prosecutors.
These court decisions don't just affect the individual prosecutor involved in the weak case. They can hurt the ability of all prosecutors to bring cases against, for example, corrupt politicians.
When former Virginia Gov. Robert McDonnell was indicted, that was the first thought that came to my mind. I agree that the willingness of McDonnell and his wife to accept expensive gifts from a constituent was inappropriate, even tawdry (not to mention downright stupid). But it appeared to me that the things McDonnell did on the constituent's behalf were pretty paltry. The constituent was hoping Virginia's state universities would conduct studies on his product, which could ultimately benefit his company. McDonnell didn't arrange for this to happen; in fact, I don't believe I saw evidence that it ever did happen. But McDonnell introduced him to people who had the potential to make it happen, if they so chose.
Federal prosecutors, seeing all those gifts, figured there simply must be a quid pro quo. Who would give a sitting governor all those things in exchange for essentially nothing? So they pushed the envelope, charging McDonnell with having accepted the donor's largesse "in return for" the governor's performance of certain "official acts".
To my surprise, the jury convicted McDonnell. The conviction was upheld on appeal. But finally, this summer, the Supreme Court put the brakes on. Citing the duty of officeholders to listen to the concerns of their constituents, arrange meetings for them, and contact others on their behalf, the court unanimously reversed the conviction, ruling that to allow the prosecution of such acts would "cast a pall" over relationships between officeholders and constituents.
Pundits agree that this decision will make it harder for prosecutors to bring other, more appropriate cases of public corruption to trial. But it didn't have to be this way. The blame lies with the prosecutors who pushed the envelope.
Another side of this coin is the decision not to prosecute Hillary Clinton. I understand the dilemma that Clinton's reckless (some would say "grossly negligent") actions posed for federal investigators and prosecutors. It is an officially recognized responsibility of federal prosecutors to avoid, if possible, bringing indictments during the period immediately preceding a suspect's election contest or to indict if the chance of conviction is not strong. Clinton's popularity significantly weakens the chance of conviction.
So I agree that FBI Director Jim Comey, a man of the utmost integrity, could not request the indictment of a presumptive presidential nominee just a few months before the election. And his reasoning is sound when he says that "no reasonable prosecutor would bring this case."
But now, the Clinton non-prosecution decision will serve as a defense in other cases where a lesser-known individual is accused of mishandling classified material. So it will now be harder for the government to prevent the leaking of classified information.
The ability of prosecutors to achieve real justice has just taken two giant steps backward.•
__________
Daniels, managing partner of Krieg DeVault LLP, is a former U.S. attorney, assistant U.S. attorney general, and president of the Sagamore Institute. Send comments to ibjedit@ibj.com.

Please enable JavaScript to view this content.