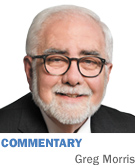 I have to admit I wasn't all that excited about the Olympics this year. I can't cite a specific reason. Maybe all the negative press about Rio not being ready to host contributed to the feeling. Or maybe the perpetual onslaught of negative news from the national political scene was suppressing my ever-present patriotic enthusiasm.

Whatever the case, I snapped out of my funk after being thrilled and amazed by the athleticism and team spirit of Team USA. I've probably watched more of this Olympics than any previous year. Interestingly, I've seen a lot of criticism of NBC's coverage, but I've enjoyed watching. I have issues on many levels with NBC's overall news bias, but I think the Olympic coverage has been good so far.

I've gotten to know Simone Biles, Aly Raisman, Gabby Douglas, Laurie Hernandez and Madison Kocian. Wow—what a powerhouse gymnastics team. How about those swimmers? Super women—Katie Ledecky, Simone Manuel, Allison Schmitt, Lilly King and Madeline Dirado, to name a few. Of course, Michael Phelps is a familiar face and continued to make history. Nathan Adrian, Ryan Lochte, Cody Miller, Ryan Murphy and Anthony Ervin all did their country proud.

I watched volleyball, women's soccer, track and field, men's and women's basketball, and golf. It's been fun, and the spirit of good, healthy competition has been motivating. Watching has helped me regain some of that optimistic spirit I've lost lately by being exposed to too much of the 24/7 news cycle. I've talked to a few people who said they've experienced the exact same positive feelings after watching the Olympic coverage. It's been a pleasant surprise to all of us.

Even with all the good feelings, I'm still a little paranoid while watching the Olympics, because I worry NBC will try to sneak some news folks in like Andrea Mitchell or Chuck Todd. Instead of talking about whether Simone Biles is the best American gymnast ever, the discussion could turn to whether the USA is being a good neighbor to our global friends by winning so many gold medals. Yes, it sounds silly, but that's how out of balance the media hysteria has been. It seems like there has to be some sort of outrage over everything.

I can see in my mind's eye Savannah Guthrie breaking in with the usual four to five anti-Trump stories while reporting from the White House kitchen with President Obama as he shares which late-night snacks he enjoys while watching the Olympic coverage. Crazy, I know, but it sounds like a normal broadcast day at NBC.

Now before my friends (possibly ex-friends) at WTHR Channel 13 write a nasty letter to the editor about my column, I want you all to know I still love your local news and programming. Top shelf. Your coverage of the Olympics on site has been terrific. Love it. And everyone knows it's those left-wing pirates in the NBC News division who are screwing things up, not the local affiliate. Let's face the facts, when you see Rachel Maddow on the "Meet the Press" panel on Sunday morning, you know the news division has gone completely off the rails. Tim Russert, a Democrat and respected by everyone when alive, is turning over in his grave. Forget journalism on TV. It's almost all opinion with an agenda in mind.

I am worried about what I'm going to do when the Olympics are over. I can't go back to mass news hysteria. I've been watching a lot of History and Discovery channel programs. Additionally, my wife got me hooked on all the home shows—like "Fixer Upper," "Flip or Flop," "Rehab Addict" and "The Property Brothers."

The Food Channel weekend lineup is now a staple in my household. In fact, after watching back-to-back "Pioneer Woman" cooking shows, hosted by Ree Drummond, I'm thinking life on the ranch in Osage County, Oklahoma, looks pretty darn good right now. Folks there don't seem to be too worried about what's going on in Washington, and I doubt anybody is lecturing them about the need for stricter gun laws. Wait, maybe they have a Gannett newspaper there, too? I haven't checked.

Anyway, I think everyone is ready for at least a semi-steady diet of good news. Let's get this ridiculous election behind us and find our sense of humor again. Life is too short. Cheers to the USA Olympic team. Thanks for your inspiration. And by the way, I've got Ree Drummond's tasty pot roast recipe if you want it.•

__________

Morris is publisher of IBJ. His column appears every other week. To comment on this column, send email to gmorris@ibj.com.