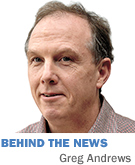 When Rene Champagne retired as CEO of ITT Educational Services in 2007 after 22 years at the helm, the for-profit education company was riding high—as evidenced by its stock market value of $2.9 billion.
Oh, how the mighty have fallen. Today, after a decade of leadership by his successor, Kevin Modany, ITT Educational's shares trade for a mere 39 cents, leaving the company with a stock market value of $8.4 million—and that's probably overstating what it's really worth.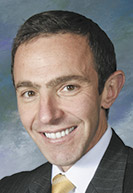 Modany
Analysts say the company, which operates about 130 ITT Technical Institutes in 39 states, is likely to go out of business following the U.S. Education Department's Aug. 25 order barring it from enrolling new students who depend on federal aid—the vast majority of its revenue. A few days later, the company halted new-student enrollment altogether.
The debate is raging nationally over whether the federal government under President Obama—who has sharply criticized the for-profit education industry for leaving students awash in debt while failing to deliver on promised training and jobs—gave ITT a raw deal. Siding with the company, The Wall Street Journal on Aug. 30 published an editorial under the headline, "Obama's for-profit execution: How to kill a company without proving a single allegation."
But ITT and Modany aren't getting any sympathy from Bradley Safalow, the founder and CEO of PAA Research, who began waving the red flag about ITT seven years ago, when the company's stock was above $100.
His fundamental concerns: Tuition was too high (about $45,000 for a two-year associate's degree) and the quality of the educational programs too low—a combination that left many students buried in debt they had no ability to repay.
As pressure to improve intensified in recent years, he said, the company responded by propping up short-term results by spending billions of dollars on share buybacks (which lift earnings per share by reducing the number of shares outstanding) and slashing spending on educational programs.
"At its core, in the seven-plus years we recommended selling or shorting the stock, at no point did they take a step that would actually improve educational outcomes for their students," Safalow said.
He added: "Everything they did was to preserve near-term profitability at the expense of the long-term sustainability of these institutions."
He contrasted Modany's approach to that of Champagne, who grew the business aggressively but appreciated the fragility of its relationship with the federal government, its primary funder.
"I think he understood the implications of deviating from providing reasonable education outcomes would be hugely problematic," Safalow said. "If you think about Modany, his orientation has been to cut back on educational spending—to do anything he can to boost near-term EPS."
Nicole Elam, an ITT spokeswoman, declined to comment beyond saying, "Everyone has an opinion on what took place here and they are simply that—opinions."
The noose has been tightening on ITT since June, when the Education Department asked the company to provide a $124 million letter of credit to protect against losses, up from the $80 million letter of credit it already had provided.
The department took that step after the Accrediting Council for Independent Colleges and Schools notified ITT that it was considering revoking accreditation. The company also faced challenges on other fronts, including a predatory-lending lawsuit filed by the Consumer Financial Protection Bureau and a fraud lawsuit filed by the Securities and Exchange Commission.
Credit Suisse analyst Trace Urdan reacted harshly to the Education Department's tightening the screws on ITT when it already was under siege.
"The irony of ED's action is that by placing additional pressure on ITT's balance sheet during a period of cyclical weakness in demand, we believe it could jeopardize the institution's viability far more than any action by ACICS," he wrote in a report.
"We might have thought ED would have trod more lightly in order to avoid precipitating a crisis, but the political pressure to get visibly tough with the unpopular company apparently overwhelms concerns over the cost and difficulty of unwinding the 130-campus chain if it were to close."
Safalow said such thinking ignores the reality that ITT derived more than 90 percent of revenue from federal funding, military funding and state grants—and that the default rates on ITT loans top 70 percent.
So this isn't a case of the government meddling with free enterprise, he said.
"These guys ran a business—it was run entirely off the taxpayer," Safalow said.•
Please enable JavaScript to view this content.