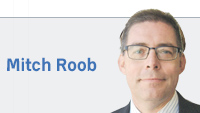 Keep the lights on.
Cut the trees. Bury the lines. Do what needs to be done.
Our electricity was out. Yes, again. Another storm rolled through Indianapolis, downing trees and power lines. And so we sat in the heat and the dark, as we had sat in the cold and the dark following snow and ice storms.
We were more fortunate than some. Our power was back on by the next morning, but we have friends whose power was out for more than 48 hours.
Classes were canceled and businesses closed for the day. Productivity screeched to a halt. We were disconnected from a wired world powered by electricity.
Why does this happen so regularly? Why is our power so vulnerable to run-of-the-mill natural occurrences? Is it as simple as cutting down the trees that might fall on the lines?
We live in central Indiana; we get wind and rain storms, snow and ice storms. While we do not know exactly when the next storm will arrive, we can be sure it will. Perhaps we might consider doing something differently, like planning. Trees are unlikely to cut themselves. Electric lines will not just jump in a trench and bury themselves.
Indianapolis Power & Light and the other electric utilities will do what the Indiana Utility Regulatory Commission allows in regard to electricity reliability.
When I ran the Indiana Economic Development Corp., many firms made the reliability of power a mission-critical issue and judged a community's ability to provide that power as a key factor in choosing a location. A day without power is lost productivity, delayed orders. Power instability increases the need to inventory product, which hurts the balance sheet of firms. These costs are not recoverable—lost income and time, gone forever.
The loss of electric power puts people at risk—from the men and woman of IPL who have to fix the mess to the customers who may be, at best, inconvenienced and, at worst, subject to physical harm and financial loss.
The burden of service interruptions falls heaviest on those who have no practical choice in an emergency caused by an outage. The elderly, poor and the young are unlikely to be able to find temporary shelter, particularly in the winter months. Taxpayers are stuck with a cascading set of societal costs.
Electricity has over the last century moved from luxury to necessity. It heats, cools and lights our houses, washes and dries our clothes and dishes, and powers any number of communication devices—and in some cases even our cars. But electric power generation and distribution remain a natural monopoly.
Activists have visited the IURC over the years hoping to preserve "urban trees." We all value the beauty of a single tree or a stand of trees. We understand that pruning a tree or cutting it down completely affects not only the aesthetics of property but also its market value.
In some cases, the utility line might need to be moved or buried. So be it. But the lights need to stay on. Yes, there might be an increased cost for this reliability. But it is tangible and will benefit all. The benefits far outweigh the cost.•
__________
Roob, president of HealthCare Anywhere, has run Indiana Economic Development Corp. and Family and Social Service Administration. Send comments on this column to ibjedit@ibj.com.
Please enable JavaScript to view this content.