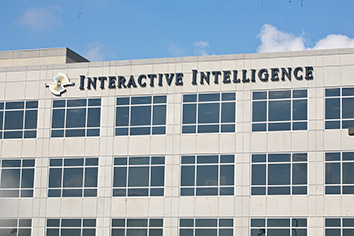 Interactive Intelligence Group Inc. and its soon-to-be acquirer, Genesys Telecommunications Laboratories Inc., had been feeling each other out and chewing over offers since 2012, with Genesys pitching escalating buyouts at $38 a share, $47 a share and $62 a share.
California-based Genesys finally announced a deal to acquire the Indianapolis-based call-center-software maker on Aug. 31 for $1.4 billion, or $60.50 a share. The deal is expected to close later this year, at which point Genesys, which has about 2,800 employees, will take on Interactive's roughly 2,300 employees.
The deal is the second-largest exit for an Indiana technology company behind ExactTarget's $2.5 billion sale in 2013. Interactive employees are expected to walk away with about $100 million in gains from equity awards such as stock options.
A filing Tuesday with the Securities and Exchange Commission shows that Interactive was an acquisition target that played hard to get, and that Genesys at one point wanted just pieces of Interactive—not the whole business.
The filing also shows that Genesys didn't face much competition in its late-stage negotiations with Interactive, effectively giving it leverage to scale back the $62-per-share offer it made in July.
It all started in December 2011, when Interactive hired San Francisco-based Union Square Advisors to help it explore strategic options, including a sale. The following spring, Interactive and Union Square had started discussions with Genesys and its majority owner, Permira Advisers LLC, about a sale
That June, Genesys expressed "preliminary interest" in buying Interactive for $38 a share, which was a 40 percent premium on Interactive's closing stock price the day before. Interactive rejected it, however, based on its board's "assessment of [Interactive's] standalone prospects at the time."
In following years, both parties mulled a merger but the discussion didn't gain much traction.
In May 2015, Genesys CEO Paul Segre called Interactive CEO Don Brown to reignite acquisition talks. The following month he told Brown that Genesys wanted to buy Interactive's on-premise software business and another business, but that Interactive could keep its new PureCloud business.
Brown told Segre he wanted Interactive to remain independent.
That November, Genesys dangled an offer to buy Interactive for $47 a share, a 42 percent premium over its most recent closing stock price of about $33 a share. But the board said no, given Interactive's plans to cultivate and roll out its PureCloud product.
Over the next several months, Interactive got unsolicited interest from an unnamed private equity firm and also heard again from Genesys. In June of this year, Interactive held internal meetings and then directed Union Square to "work toward a formal sale process and to solicit indications of interest from an initial list of potential interested parties," according to public filings.
Union Square reached out to nine "strategic parties," i.e., companies, and six private equity firms. Of the nine companies, one—Genesys—had signed a non-disclosure agreement, five said they were reviewing the proposal, and three declined to engage.
Of the private equity firms, five said they were actively participating in the process, and one dropped out.
Around that time Interactive was trading around $41.30 a share.
In early July, Union Square sent letters to all the participating parties asking them to submit a preliminary indication of interest by July 18 with an offer price of at least $60 a share. Genesys was the only party to respond, with an offer of $62 a share.
The other parties declined because "their respective valuations of Interactive Intelligence were below Interactive Intelligence's minimum," according to the filing. Some firms said they couldn't submit offers above the "low to mid" $50 range.
Private equity firm Hellman & Friedman had been interested, but said it couldn't submit an offer by Interactive's deadline. However, it announced on Aug. 21 that it invested $900 million in Genesys to assume a minority stake in the company and went on to participate in the Interactive acquisition discussions as a minority owner.
By mid-August, Interactive and Genesys had reached the final stages. Genesys on Aug. 20 submitted an offer for $60 a share that "did not include any substantive rationale for the reduction in price from their initial indication of interest."
A few days later, board members instructed Union Square to reject the $60 proposal and to request that Genesys submit a higher proposal, the filing said. Union Square was told to communicate that Interactive "would likely approve a transaction at the original $62 proposed price, but that any lower price would require further deliberation."
On Aug. 25, Genesys owners orally agreed to increase the offer to $60.50 a share, which was accepted by Interactive on Aug. 30.
Brown acknowledged Interactive's history with Genesys in an interview with IBJ on the day the sale was announced.
"We've had talks with Genesys off and on for years, and I've known their CEO Paul Segre," Brown said. "The companies have very similar cultures oriented toward customer engagement and innovation, and we've both been leaders in the space.
"We've had dinner occasionally in respect of, if the time were ever right there were a lot of synergies between the companies."
Segre, in a separate interview, said the deal is all about market domination.
"The thesis of the combination is all about growth, and creating a powerhouse in the industry and taking market share from competition," he said.
Please enable JavaScript to view this content.