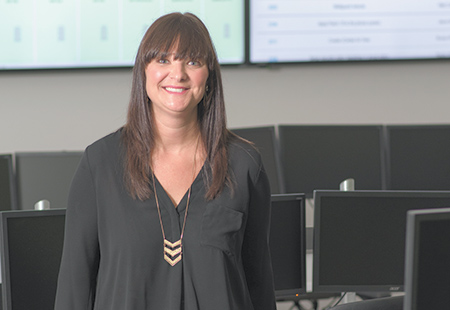 Shelly Towns, 38, started with Angie's List in 2005 as a writer but rose through the ranks and is playing a key role in the turnaround of the home-services-review company.
What's it like to be part of a turnaround?
It's been really exciting. For sure. I would definitely start there. I, personally, am very comfortable with ambiguity and fast pace. I'm fine with, to some degree, figuring out things as we go.
I've been here for 12 years and it was really important to me that Angie's List enjoy an external reputation that kind of rivaled what I had always thought from the inside looking out. So I think now that we're starting to see the turnaround in action and starting to demonstrate some successes, it just feels really good that there's just a momentum change in a positive way. 
The "job title" field of your LinkedIn profile is always filled with job positions that you're looking to hire for. When did that start and why?
I've found our vice president of [user experience] with my little LinkedIn ploy. I've found our VP of product management with my LinkedIn ploy. It hasn't let me down yet.
So over a year now, I've been leveraging it. This isn't the kind of industry where folks are just applying online and going to Monster.com and uploading their resume. The best talent is happily employed someplace else and you have got to go get it. And LinkedIn has been a good channel for me to do that. 
You know how it all works: You scroll through names on there, and what do I want people to see my title for? Like, it's all noise. That stuff jumps out. It's been effective for me.
You've been here since May 2005. What's kept you around so long?
In the beginning, I stayed because they believed in me. We have a leadership core here such that—especially when you think about when Bill [Oesterle] was here and Angie [Hicks] early on—some of the best things about their leadership styles is that they see in other people what those folks don't see in themselves. And they know how to bring it out.
How close have you come to parting ways?
Mmm. That's funny. 
You know, there's a lot going on in this town, and so there's always some fun opportunities that pile up. Again, my honest answer, and I'd say it on or off the record is, I've been exposed to a lot of awesome people here, to huge problems that are bigger than myself, in stretch roles that have just been challenging for me to figure out. So I continue to be challenged and continue to have fun. You know, Sunday nights don't suck for me. And I think, if that starts to happen, I have to question what I'm up to.
But, you know, ultimately I want to be the CEO of a company. And, for now, this is a marathon and not a sprint. There's lots for me to learn and I just want to continue that journey so that ultimately when my time comes, I'm just as prepared as I can be.
Name one thing that you like about your old boss, Mr. Oesterle, and name one thing that you like about your new boss, Scott Durchslag.
With Bill, he is who he is. He never pretended to be anybody else. He never expected you to be anybody you weren't and you felt comfortable with that. And I think given the notoriety of himself and what he built here, he never had airs [about himself] and he was always just the same guy that he was, probably from the very beginning. We always had a saying here, which was, "Bring yourself to work."
So seeing himself be him—whether he was here, whether he was in the boardroom, whether we were having a beer at the Golden Ace. Didn't matter. He was always the same person. I took a lot of confidence in knowing that I could be me, but be a leader or successful or whatever. The power of his convictions rubs off on you.
What about Scott? I know it hasn't quite been a year yet.
I remember that first meeting and I thought, "Oh, my gosh, what am I walking into?" But it was all good, by the way.
Umm. [pause]
If you want, you can just tell me about that meeting and your first impressions.
I mean the very first meeting was, we had already had an executive off-site scheduled. We always have these executive off-sites scheduled to kind of prep for an upcoming board meeting. And the agenda was to discuss the biggest priorities in the company. Well, that was Scott's first meeting with his executive team, and I had to present the upcoming road map for the business.
Somebody coming in with his purview, having been at Skype, Expedia and Best Buy, you think, "Oh my gosh. What are this guy's expectations going to be? Will I measure up? Will the road map be what he's expecting?"
It was a good meeting, and you got to see the sense of where his questions were going. Above all else, he's very rational. He likes to talk through the situation. He's got a very high bar for quality and expectation. He's very design-centric, and he has a true affinity and appreciation for what goes into building software.
And he knows that, to do it right takes time, and he's just been proving to provide incredible support and air cover for us to make the right decisions for the customer.
You have two children and a husband. What are one or two tips you would give to someone also balancing family life with public-company-executive life?
The first thing I'd [advise] is setting your own expectations of what balance means—making sure I'm spending the right amount of time on the right things.
One of the things I've been told over the years from other leaders is, they would say working parents are among their most efficient employees because they know they want to get out. They know there's something better to get home to.
So, yeah, I'm not going to waste a bunch of time in meetings talking about things that aren't important. Let's make sure that I'm structuring my day appropriately and that I'm always focused on the high-impact stuff so I can get out of here and I can feel good about getting out of here knowing that I did a solid day's work.
What do you do in your downtime?
Mostly I read or cook. 
I like cooking things that take lots of time and things that I haven't cooked before and just the challenge of learning how to do it better. I'll tend to invite people over for dinner parties so that I feel like, "This better turn out."
And I just read a ton. So I'm probably reading two or three books at a time under any circumstance. Kind of a combination of fiction and non-fiction.
I've just gotten into audio books. I didn't think I would like it, but I do like it, so now I've got another avenue.
Where was your last vacation and where is your next one going to be?
My last one was South Haven, Michigan. We go there every summer for a week and stay right on the beach—rent a house. A couple of friends go with us and then my family. 
So literally, beach, hang out, eat, do nothing.
My next vacation, I believe, is going to be Sedona [Arizona] and go to the Grand Canyon for our 10th wedding anniversary. My husband doesn't want to go, but I've convinced him. I like going places I've never been, and he and I both have never been.•
Click here for other interviews.
Please enable JavaScript to view this content.