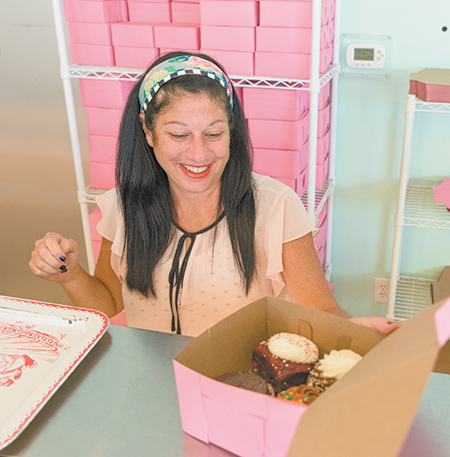 Kate Bova Drury, 46, owner of The Flying Cupcake and The Dancing Donut, years ago stopped baking the cupcakes her bakeries sell.
She focuses on running the business and expanding her stores (she's up to five cupcake bakeries, one location for doughnuts and one combo store), but she still has significant input on flavors.
Her advice to other small-business owners trying to expand? Hire support staff you can trust. She keeps an office at the Carmel location but regularly zips around to her other stores to get to know all her employees.
When you opened the first store, on Illinois Street in 2007, did you always think you would open others and expand?
Oh, no. I took it one day at a time. My goal every day was to at least sell, like, one thing. I just took it as it came. That's even kind of how I take it now, which is why I think I'm willing to take a lot of risks that other people aren't.
I'm just, like, "What's the worst thing that can happen and can I live with it if that happens?" And that's what I did in 2007—and a lot of those things did happen.
What made you get into the cupcake business in the first place?
I had a boutique in Broad Ripple for 10 years. I would bake cupcakes for when we had special shopping events. We did it often, and people would want to come just for those cupcakes.
I started to wonder, "Could I just sell the cupcakes in here?" It sort of evolved. I did some research on it, and the only one that existed—I'm sure Sprinkles [Cupcakes in Beverly Hills, California] was open, but I had not heard of it—was Magnolia [Bakery] in New York. We didn't have anything like it here at all.
When I did it, people were a little thrown by the concept, so that was a little discouraging at first. I was like, "Oh, what have I done?" But the neighborhood really embraced it.
When did you start transitioning yourself out of the kitchen?
In 2008, I brought in somebody else to help because it was seven days a week and I was at the time a single mom with younger kids. So it was hard. By 2009-2010, I think I was completely out of the kitchen.
How did you get into opening a doughnut shop in 2015?
I had planned that back before I opened [a second cupcake shop, in early 2010] on Mass Ave, actually. The [doughnut] location I was negotiating was in Broad Ripple and that deal fell through, like, in 2010. And it was kind of so negative that I just stepped away from that and focused on the growth, the momentum of the cupcakes.
How has the doughnut-bar concept at the Fishers combo location been so far?
Very good on Saturdays and Sundays. It's more kid-driven, I think. It's hard to know if I should have done that in Broad Ripple [the doughnuts-only location]. I think people really like it. You can put whatever you want on. There's literally, like, 15 options.
I think people would like to do it with cupcakes, but that would be a little harder to do. We have so many flavor combinations, we probably have it already.
What are some of the most popular cupcake flavors?
Red velvet is our most popular and, sadly, after that it's just vanilla—but it is really good.
The salted chocolate caramel is really popular. The "Here Comes the Bride," which is an almond, is popular.
Top-selling doughnut flavor?
The John Dough, which is the yeast, and then the Jane Dough, which is the yeast with the chocolate and the sprinkles. The Kevin Bacon is really popular. That's with maple bacon.
Has there ever been a flavor that just did not work that you thought would?
Yes. One of the guys' input one time was like a root beer float. And the problem with that is, I really don't like using imitation extract. Even though we used actual root beer in the cake, the icing had to have something going on more. So, we didn't do it.
He also wanted to do a Mountain Dew one and we were like, "No."
So what's next for the business?
We have a concept that we're working on now that's in a different area of town. I can't say anything because nothing's done yet, but it will be more like a table service. That concept would involve adult beverages in the evening—but still be very kid-friendly—beer and wine and extended hours and outdoor seating.
And then the menu. Our sugar cookie, we have customers for that every single day, and we're going to expand that in the new concept to doing more sophisticated flavor combinations and then, of course, our cupcakes.
It'd be full coffee service, as well—espresso and cappuccino.
You won't just pick stuff up and go—but you could.•
Click here for other interviews.
Please enable JavaScript to view this content.