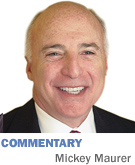 I am taking a hiatus from this column until sometime next year in order to complete a book. Our editors will publish a favorite column once a month. This one is from 1999.

"That son of a bitch. It was potassium."

These were Dr. Eric Prystowsky's first words upon emerging from his study after reviewing cases of mysterious deaths at Vermillion County Hospital in Clinton.

Of course, we are all familiar with the trial of Orville Lynn Majors Jr., which ended in his conviction and sentencing to 360 years in prison. What most people don't know, however, is how close Majors came to committing the perfect crimes.

Although Majors was convicted of killing only six people, there is a great deal of speculation that he might have murdered 100 or even more. According to Prystowsky, Majors' secret diabolical quest to dispatch the elderly before their time began to unravel when nurse Dawn Stirek noticed intensive care unit patients died at the rate of one every 23 hours when Majors was working and one every 552 hours when he was not on duty. Moreover, deaths in the intensive care unit more than tripled during Majors' second year of employment, from 31 deaths in 1993 to 101 deaths in 1994.

Faced with this statistical analysis, the hospital turned the material over to the Indiana State Police, who assembled a small cadre of experts to aid in the investigation. Because heart monitors presented evidence that the deaths were due to a heart rhythm disturbance, Prystowsky was invited to join the team.

It was a fortunate choice. Prystowsky's curriculum vitae contains over 50 pages of honors and positions, as well as an endless list of articles and books he has authored. In a recent introduction by one of his colleagues, he was described as a triple-threat man: brilliant clinician, creative and intuitive clinical investigator, and outstanding lecturer and teacher of cardiac electrophysiology.

Not mentioned, but vitally relevant, is Prystowsky's fascination with A. Conan Doyle's master logistician, Sherlock Holmes. Like his boyhood hero, Prystowsky relished the challenge of applying his considerable talents to the discipline of detective work. "The game was afoot."

After reviewing 10 cases, Prystowsky concluded that the deaths were most probably caused by the injection of potassium, a substance needed by the body but one that is usually lethal in large doses. His study of well over 100 additional charts confirmed the initial insight.

Prystowsky's theory led to selective exhumations, which allowed the team to confirm the presence of potassium and to exclude other theories for cause of death. Later, a search of Majors' property revealed empty vials of potassium chloride, further confirming the accuracy of Prystowsky's conclusions.

At the trial, Prystowsky served as one of the expert witnesses. His role was to explain how the heart works electrically—how potassium affects the heart rhythms and essentially how to find the "murder weapon" on the patients' heart monitor rhythm strips. According to Prystowsky, this was one of the most challenging teaching assignments he has ever faced. The concepts he needed to explain were arcane and difficult, even for medical students to grasp.

He spent the greater part of four weeks with his artist, Jane Gilmore, developing a graphic system to present the case to the jury step by step, layer by layer. At the trial, he spent many hours on the stand, including about eight hours of cross-examination from the defense counsel.

Post-trial interviews with jurors elicited the information that Prystowsky and the other expert witnesses "made the difference."

Prystowsky will be the first to tell you the success of the prosecution was due to a team effort, in particular prosecutor Greg Carter and State Police Detective Frank Turchi. Other key team members were Drs. Bruce Waller, Mike Olinger and Brent Furbee, as well as prosecutor Nina Alexander and many others. But modesty aside, it was Prystowsky's brilliant sleuthing after hours of painstaking study that marked the turning point in this case.

Prystowsky has donated the money he received for his depositions and testimony in the case to the American Heart Association in memory of the victims.

Today, the talk is about health care. Everyone is complaining, and doctors head the list, often with legitimate concerns about their financial future. You often hear that medicine has become a business. Eric Prystowsky gives truth to those who still believe medicine is an art practiced by special humanitarians. We are privileged to have this brilliant and internationally famous physician—and amateur detective—in our community.

Update: Dr. Prystowsky is sleuthing again. He is an expert on atrial fibrillation and is working on how to prevent strokes, a leading cause of death. He is also a national spokesman for the movement to educate physicians and laymen in efforts to reduce and hopefully eliminate this devastating threat.•

__________

Maurer is a shareholder in IBJ Media Corp., which owns Indianapolis Business Journal. To comment on this column, send e-mail to mmaurer@ibj.com.