Before the epidemic of opioid overdoses started making national headlines, Indianapolis Emergency Medical Services—the city's ambulance service—saw the trend emerging locally.

Around late 2013, IEMS officials started noticing an increase in its use of naloxone, an emergency medication that reverses the effects of those potentially fatal opioid overdoses. So it began ordering larger supplies of the nasal spray and notifying other public safety agencies about the development.

By the end of 2014, IEMS administered naloxone 1,061 times, up 69 percent from the 629 instances in 2013.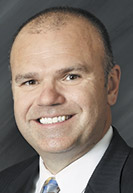 Riggs
"That partnership has saved lives," said Indianapolis Metropolitan Police Department Chief Troy Riggs about his agency's relationship with IEMS, "and we think it also has improved the lives of many others."

Two words can sum up IEMS' ability to spot the opioid crisis early: big data.

It's a buzz phrase often associated with hardware and software companies, referring to the collecting and analyzing of gobs of information. But data analysis also is gaining steam in the government and not-for-profit realm, where IEMS operates. IEMS is a partnership between the city, the Indiana University School of Medicine and the Health and Hospital Corporation of Marion County.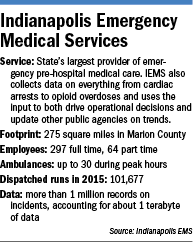 IEMS isn't alone locally in using big data to try to save lives. For instance, the state in 2014 asked a private company to analyze infant mortality statistics from various departments, helping to set the scene for resource allocation. But IEMS has been at the forefront, observers said, unifying granular information into a real-time public health picture and spurring action across other government agencies.

IEMS is the state's largest provider of emergency pre-hospital medical care. It has about 360 employees, including 64 part-time workers, and covers a 275-square-mile footprint in Marion County.

It has about 30 ambulances in service during peak hours, and it made nearly 102,000 dispatched runs in 2015. The organization records hundreds of data points from every run, and it has a million incident records taking up a terabyte of space on its private servers.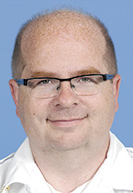 Arkins
IEMS IT chief Thomas Arkins is one of two people responsible for managing that data. He said it routinely helps the agency determine how many staff members to have on duty, when and where to place ambulances, what medicines to order, and more.

But the data also has shed light on health issues—such as the city's hot spots for opioid overdoses, cardiac arrests, influenza and more—and on which neighborhoods are making progress and require fewer health care services.

"Fall Creek is a great area to look at—the demographic of the area has changed dramatically," Arkins said. "So we don't need as many resources in that area anymore because the people in that area have health care, they're gainfully employed, they follow up with their doctors on things."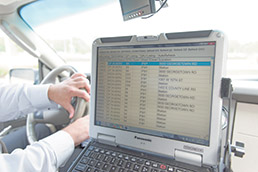 Indianapolis EMS data has detected public health trends related to opioid overdoses, cardiac arrests and influenza.
(IBJ photo/Eric Learned)
IEMS is not stingy with its data. Though patient privacy laws prevent it from sharing everything, it regularly alerts law enforcement or health officials about health trends it spots within geographic areas.

Its work doesn't stop with informing. It recently launched an initiative called ProjectPOINT, which sends a social worker and an emergency medical technician to emergency rooms to meet people who have received naloxone from a first responder.

Officials said the pair shares information about treatment and recovery resources and provides patients with naloxone before they leave.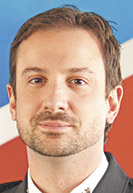 Miramonti
IEMS dealt mostly with dispatch data and paper records until mid-2009, when it switched over to electronic medical records. IEMS Chief Charles Miramonti said that, around 2012, the agency overhauled the legacy system of where it places resources and built a new system based on data.

The effort was one factor in its turnaround from losing $12 million annually to having a balanced budget.

"Our notion of data back then was, you call 911, we send an ambulance and then we looked at how we did," Miramonti said. "To ask a question years ago took weeks to get an answer."

Things are not all swell. Opioid cases continue to rise, with the agency administering naloxone a record 1,225 times in 2015. As of Oct. 4, officials said, that figure for 2016 stood at 1,303.

But IEMS has led awareness efforts and trained police and firefighters who might respond to the overdoses.

IEMS' early example has served as a model for other public health and public safety service providers. Riggs, the police chief, said his department has a "data center" and a growing team of nine analysts. He said it's now using data to deal with not only crime but also with the "issues that potentially lead to crime."

"We're looking at how EMS can ride along with police officers occasionally to deal with some of those mental health challenges before we get somebody in crisis," Riggs said.

"And when someone's in crisis, that escalates the possibility of someone having to go to the hospital, them dying as a result of that, or police use of force, and we're trying to mitigate any of that that we can to protect our officers and citizens."•