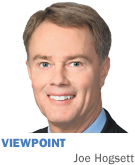 Right now in Indianapolis, we have an unemployment rate that is right at 5 percent. And that is a good number.

It is lower than the state average and much lower than five years ago. But it doesn't paint an accurate picture of the challenges we face as a city. Like the national economy, we see the local economy as one in transition.

As companies like Carrier Corp. continue to take advantage of low-skilled labor in other countries, we're also seeing increases in productivity as a result of new technologies. To keep pace with the growing number of jobs that require higher levels of education, we must face a corresponding decrease in low-skill jobs.

Georgetown University projects that, by 2020, 62 percent of Indiana jobs will require some form of post-secondary education. Unfortunately, today, only a little over 40 percent of our residents have that level of education. Unaddressed, misalignment will lead to growing income inequality and stagnate our economic growth. As mayor of the state's economic engine, which helps drive the rest of our region forward, I'm much concerned by this.

We must push our state's education system to better prepare students for the modern economy. We must rethink how we attract and retain talent and we must engage employers that will help create diverse talent pipelines, ready to fill the thousands of jobs that might go unoccupied in the next five years. Further, we must break down the silos that have for too long kept efforts from reaching the critical mass of employees necessary to tackle a problem of this scope.

When I took office, I laid out three key priorities for my administration: stemming the rising tide of violence, addressing the city's growing population of people living in poverty, and working to ensure a fiscally stable city. In order to make a difference for all three, we need to ensure that every Indianapolis citizen has the opportunity to pursue a meaningful, self-sustaining career.

Earlier this year, I announced a Regional Workforce Partnership building off Project Indy's efforts to address youth unemployment and working in conjunction with Indiana's Region 5 Works Council, Central Indiana Corporate Partnership, Indy Chamber and EmployIndy leadership. Together, we will execute a targeted, integrated approach to workforce development with a unified vision and clear alignment of purpose.

EmployIndy is already growing and updating existing programming, focusing on low- to mid-skilled workers, with a mix of job-readiness training and career planning. A renewed emphasis has been placed on neighborhood-focused workforce development with additional resources for community centers and increased accessibility for areas that need it most. In addition, EmployIndy will continue to be a critical partner in the expansion of Project Indy, an initiative aimed at providing summer employment and job training to Indianapolis youth.

CICP's newest branded initiative, Ascend Indiana, will drive economic development with a focus on mid- and high-skilled careers by encouraging employers to deeply understand their talent needs, working with higher education to identify and connect talent, and helping to shape public policy. In addition, Ascend Indiana will build our talent pipeline, through proven training programs and customized solutions.

This first-of-its-kind, collaborative and solutions-oriented plan can help differentiate Indianapolis from other major cities by providing meaningful economic opportunity, increased investment and greater prosperity for all residents. We have a once-in-a-generation chance to develop the kind of city others will look to as an example and help cement Indianapolis as the best place to live, work and raise a family.•

__________

Joe Hogsett is a Democrat and mayor of Indianapolis.