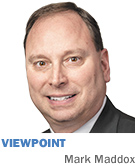 Like many Hoosiers, I was generally aware the state of Indiana is celebrating its 200th anniversary this year. But I wasn't really planning to take part in any of the festivities until I received a letter from the governor back in June.
This letter informed me I had been selected for the "once-in-a-lifetime opportunity to be a torchbearer during the Indiana Bicentennial Torch Relay this fall." Once I confirmed this wasn't a scam or a scheme to get me to "pay for the privilege," I immediately signed up. Who could really pass up the opportunity to be in an exclusive group of just over 2,200 Hoosiers who will pass the torch along a 3,200-mile route through each of Indiana's 92 counties? I'm in!
First off, we had to report for torchbearer training. Some of the most memorable training moments included warnings about always keeping track of where the flame was located so you didn't burn your own face or hair or that of another. Pretty sage advice. We were particularly cautioned about instances where you had to cross torches to light the flame for the next guy. Be careful that you don't tip it too far and spill lighter fluid on your face or body. OK.
We were also told to not drop the torch, which makes sense because we don't want to break it—or worse—have the flame go out. We were also instructed to wear the free state-issued uniform, including a T-shirt, hat and optional jacket. Although nowhere near the coolest hat or shirt in my wardrobe, there is some very small chance I might wear one of these items again someday after the torch run, probably when no one else is around. We were also warned not to alter the uniform in any way with political ads or NASCAR-like patches. Simple and clean is usually better.
Next, we started communicating with our county coordinator. She informed us of the day and approximate time the torch would be moving through our county. Since I was nominated to handle the torch in my original home county of Wayne (Richmond), I drew a Sunday afternoon. Perfect. I was also assigned the 19th leg (my lucky number), which was a stretch of about 0.6 mile along U.S. 40 on the west side of Richmond, near my mom's house. Feels like home. My only regret is the guy in front of me (the 18th-leg guy) got the route that started at my favorite Dairy Queen in the world, which is three blocks from my mom's house. How sweet would that have been?
Although I'm in passable shape for 55, I was getting a little concerned about whether I could run the five-pound torch for the entire route or have to walk it for a distance. This could be embarrassing. After having to turn in to our coordinator my estimated time to run a mile (a lot more than four minutes), my concerns were immediately alleviated when she informed us that we were all too slow and on too tight of a schedule, and most of us would need to ride in a vehicle so the torch could stay on route and on time. This just kept getting better.
The big day finally arrived, and I was expecting to handle my torchbearer duties with just two of the most important women in my life in tow: my mom and my wife (who is also from Richmond). They had to be there. I tried to discourage other friends and family from attending because it didn't seem like a big enough deal for them to drive all the way to Richmond, and I thought I had succeeded in keeping them away. We went to Richmond early that Sunday morning to have breakfast with my in-laws at Bob Evans. After leaving them at their home to enjoy their Bob Evans food coma, we were off to my mom's house to collect her and then on to my starting point on U.S. 40. I was lined up 30 minutes ahead of my targeted time.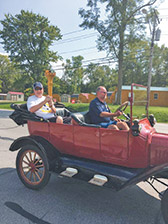 Due to timing issues, Mark Maddox got to ride instead of run the torch.
(Photo courtesy of Mark Maddox)
As I waited for 18th-leg guy to come down the road in a very sweet Model T Ford convertible, a funny thing happened. People started showing up and coming together. My cousins, my daughter and son-in-law with my precious 2-year-old grandson all surprised me, and many others I didn't know gathered around. Maybe this was a bigger deal than I thought. Maybe it was a little part of Indiana history. After hearing the torch was delayed about 30 minutes, and conversing with all those around on a beautiful, warm September day, we started to hear the sirens and see the lights of the approaching convoy. Some in my group left to watch at a gas station toward the end of my route.
In a whirlwind of activity, 18th-leg guy got out of the Model T, handed me the torch (no lighting here), and we posed for a quick picture together to prove we actually occupied the same space for a few seconds. Then I hopped in the car and we were off. What happened next was among the best 2-1/2 minutes of my life. Cars were stopping and people were waving in an amazingly warm and friendly way. Some were calling out my name. When we passed the gas station, I saw much of my extended family, a few friends, and even my in-laws who had apparently awakened from their naps and come out to support me. My grandson clearly thought he should be in the car with his Paps. So cool.
In an instant, it was over. The car stopped and I got out to hand the torch to 20th-leg guy. But he was already holding a torch and it wasn't lit. This was the doomsday scenario! As we crossed torches, I kept thinking, "Don't tip it too much and burn somebody's face off." My successor was even scolded by state officials for tipping his torch too much. Eventually, his flame was lit, no one was burned, we took the picture, and he was off.
As I walked the short distance back to the gas station to get a ride with my wife, I felt like an addict forced to go cold turkey. The adrenaline was still rushing but my torchbearer career was officially over. I thought briefly about the seven generations of my late father's family that called Indiana home, and the five generations of my mom's family that started with her parents' emigrating from Italy. This state has been a fine home for all of them.
When I got to the gas station, I was asked, how was it to carry the torch? Without much thought, I said it was a lot like sex—a fairly long build-up to a fairly short period of extreme fun. But it was a lot of fun. Happy Birthday, Indiana. I was privileged to represent many generations of my extended family and have a small part in your 200th birthday party.•
__________
Maddox, a former Indiana securities commissioner, is managing partner of Maddox Hargett & Caruso.
Please enable JavaScript to view this content.