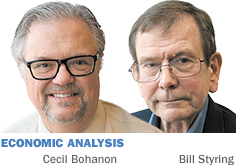 Our president-elect has vowed to propose massive increases in infrastructure spending. That should make all of us nervous. Arguments for spending on roads and bridges always look great on paper. They put people to work. They lay the groundwork for a more productive private sector. All sorts of wonderful results are promised. Alas, these schemes at the federal level seldom deliver on the rosy political rhetoric.
Beginning in the early 1990s, Japan tried a Big Infrastructure-Easy Money policy mix (if this combination sounds like where we might wind up, it's because it is). What it got was not a burst of economic growth. Instead, Japan languished in a "Lost Decade" of stagnation now into its second decade.
Celebrated federal infrastructure successes usually entail something truly national, such as the interstate highway system. Every population center of even modest size was linked via a similar standard of construction. Most other "infrastructure" projects are of local or, at most, state benefit. Think of beautifying the boulevards around Ball State University. The feds collect—or borrow—money from all of us and send it back, minus a surcharge, to some of us. It's a leaky money bucket.
The most meritorious projects aren't always at the top of the list. The guy with the biggest political ladle gets the first dip into the bucket. The Bridge to Nowhere and the California Bullet Train come to mind. Spending in the "stimulus" bill didn't go to the areas of highest unemployment or the biggest housing busts. And those projects were only "shovel-ready" in the political-manure-pile sense.
Employment benefits flow mostly to a relatively few members of construction unions. Modern construction equipment uses few workers, after all. And a recently outsourced Carrier employee isn't of as much immediate good as is an ironworker or road-grader driver.
Then note the sadistic consequences of how the feds bribe us with our own money via the "matching grant." Highways, for example, usually have an 80-percent federal, 20-percent state or local funding mix. Everything moves in slow motion waiting for the feds to decide what they will fund. Moreover, state or local priorities become almost irrelevant; in fact, they get distorted by the funding scheme. A project you think has a very low rate of return becomes quite attractive if you're only putting up one-fifth of the dough.
Don't misunderstand. Even hard-boiled free-marketeers like us concede a role for public-capital goods. But a little caveat emptor is in order.•
__________
Bohanon is a professor of economics at Ball State University. Styring is an economist and independent researcher. Both also blog at INforefront.com. Send comments to ibjedit@ibj.com.
Please enable JavaScript to view this content.