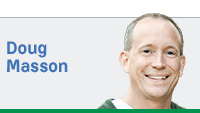 I can confidently predict that some readers are pleased with the outcome of the recent election, some are intensely unhappy, and still more are disillusioned by the process. It is common, even fashionable, to complain about the dearth of good choices, to bemoan the process, and perhaps to wax nostalgic about a lost golden age of civic virtue.
A big part of our problem is that many citizens increasingly view government, elections and civic activity as an abstraction. They are not directly involved and see the process through the funhouse mirror of media coverage.
There is media bias. However, in the case of general-interest newspapers and television programs, that bias is not necessarily conservative or liberal. Rather, the bias is toward getting you to buy papers or stay tuned through the ads. The easiest way to engage a broad range of people is through their emotions.
Intellectual interests vary profoundly, but there are a relatively narrow range of emotions that can reliably pull in a wide audience. Sex sells, but politics are not inherently sexy. That leaves fear, anger and anxiety to hook the viewer. Crime, war, corruption, conflict and disease so often lead the headlines. A multi-part series on, for example, the county surveyor's ongoing efforts to maintain and repair regulated drains in the county isn't going to sell a lot of newspapers or advertisements. It is work that is incredibly important to the economic health of the region. But it's not exciting.
When citizens think about elections and government in the abstract, they're not thinking about the surveyor or the remarkably good drainage in the county. That stuff is below the radar. Instead, citizens tend to think about some stranger they read about in the papers who works far away. When we see the electoral process and government activity only at a distance, through the filter of newspapers or television shows, our view is of a caricature. The reality is more nuanced. It's easy to see a caricature as purely good or bad. It's tougher to interact with real people doing real work without developing a more nuanced view.
In my opinion, it is the Manichean, binary view of electoral politics as good versus evil that is toxic. It poisons our view of the politicians involved and our view of our fellow citizens if they root for the "wrong" team.
The antidote is for citizens to get involved. Historically, politics was a time-honored pastime for Hoosiers. Voter participation reached 90 percent at times. In part, this was because there were not a lot of entertainment options. Brazen corruption was another reason. Voters were paid for their participation. (When Benjamin Harrison was elected president, he thanked providence. A political boss supporting him sneered at this, saying Harrison would "never know how close a number of men were compelled to approach the gates of the penitentiary to make him president.") Still, Hoosiers had a more intimate understanding of government and the electoral process because they were rubbing elbows with it on a regular basis.
I would, therefore, recommend that citizens go to meetings—not just when you have something to complain about but to see what the government bodies are doing and why. Once you understand the function of various government bodies, consider running for office. If you don't think there are enough good options, put yourself out there and serve your community.•
__________
Masson is a Lafayette attorney, author of Masson's Blog and former counsel for the Legislative Services Agency. Send comments on this column to ibjedit@ibj.com.
Please enable JavaScript to view this content.