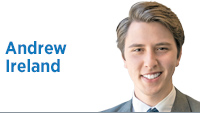 A journalism instructor began class on Election Day by playing a "60 Minutes" segment with pollster Frank Luntz and his focus group. Looking past Trump and Clinton, the subjects honed in on an overwhelmingly strong sentiment: distrust of popular media. Concerned by this, the educator posed two questions: Why? And how can we fix it?
As a senior at Indiana University studying journalism, I have spent my seven semesters as a conservative in a sea of, well, not-so-conservative peers. Not to say I take deep issue with this—in many ways, it has significantly enhanced my education. However, as I register for my final classes, I find the shock of President-elect Donald Trump's historic victory as gripping evidence why bipartisan distrust occurs.
The morning after, pundits and personalities asked, "How did we miss this story?" From my experience, journalists—especially young journalists—live in an echo chamber. Guarded from the thoughts and ideas of the world around them, populist undercurrents like those of Trump were under-recognized and undervalued.
Now, this is not to say simple bias is to blame. Subjective reporting is certainly part of the picture, and it would be dishonest to say otherwise. A more critical factor, however, is a real disconnect between mass media and the American populace. Organizations responsible for reporting the news of the day not only disagree with but do not understand millions of people in states like Wisconsin, Michigan and Pennsylvania.
The "forgotten man and forgotten woman"—whom Trump credits for his victory—are more than a phenomenon of our federal government. Media outlets have in large part failed to engage with and have an ear to the ground in these communities. Because of this, a swath of Americans continue to be left behind by the press, discounted as unimportant.
I struggle most with the second question this professor posed. There is no easy answer to how to bring trust back to journalism, unfortunately. However, the solution must start at the beginning: the university.
Academic diversity is paramount to enhancing journalism as an industry. Universities across the nation take pride in the breadth of faculty demographics. However, ideological diversity—an arguably superior quality in properly educating a new generation—is lacking.
In my time as an IU student, I never have been instructed by a faculty member who openly identifies as Republican, let alone conservative. During this same period, I have had a multitude of left-leaning instructors who openly—and very respectfully—share their worldviews in the classroom and outside of it. To be clear, I have no issues with their doing so. In fact, it seems far more genuine to admit this than to hide it. However, the lack of intellectual diversity greatly concerns me.
Media as a whole are a reflection of the classroom. If we continue the direction we are headed –one without ideological balance—problems will continue to fester. Without educators on the frontlines challenging widely held assumptions and speaking for underrepresented communities, the industry cannot progress.
I have no doubt that media can and will continue to play a key part in American democracy. However, to regain credibility and to fully fulfill the vital role of the Fourth Estate, significant change is needed.
No one solution will rebuild the trust lost. But for starters, the industry must look at journalism education. For the betterment of the newsroom, we must do better in the classroom.•
__________
Ireland is a college Republican at Indiana University. Send comments on this column to ibjedit@ibj.com.
Please enable JavaScript to view this content.