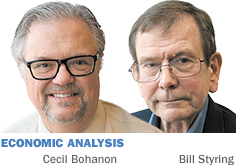 In two months, President-elect Donald Trump will deliver his inaugural address. A new president traditionally fills his speech with aspirational and inspirational rhetoric. But we also expect some specifics about what the new administration really intends to do. A case in point is the campaign promise to "rebuild our military." As economists—no experts in foreign affairs—we will be listening for what kind of military buildup he has in mind and, as important, the foreign policy such extra muscle is intended to support.
JFK's 1961 inaugural vowed the United States would "pay any price, bear any burden, meet any hardship … to assure the success and survival of liberty." Taken literally, such a claim of "any price" was, of course, ridiculous hyperbole. "Any" price or burden could mean a 100 percent garrison economy. There is necessarily a trade-off between defense/foreign-policy objectives and our willingness to forgo other desirable things to pay for those tanks and troops. As economists often chant, "There Ain't No Such Thing As A Free Lunch."
Our national commitment to defense spending has waxed and waned over the last six decades. When JFK spoke, we were allocating 11.5 percent of GDP to national defense. A decade-long conflict in Vietnam led to an American retrenchment in the 1970s, leading to defense spending of 6 percent of GDP by 1979.
The Soviet invasion of Afghanistan and an Iranian hostage crisis led to an increase in defense spending in the 1980s—it was at 7.6 percent of GDP in 1986—but by decade's end, the Soviet Union had collapsed and the Cold War had ended. The 1990s saw a low-cost Gulf War followed by a retrenchment in military spending, which hit a low of 3.8 percent of GDP in 2000. Then came 9/11 and U.S. military action in Afghanistan and Iraq. Seven-thousand dead and $1 trillion in war debt turned out to be about all Americans could stomach. By 2015, defense spending accounted for 4.1 percent of GDP.
So we'll be listening to President Trump, not just for a plea to "rebuild our military," but also for some clue to answer the question, "To do what?" China seems intent on asserting itself in Asia. Do we want a bigger Navy to thwart this? Trump has hinted at an "America First" foreign policy. Why does that require a larger military? What capability do we need to bomb the bleep out of ISIS?
We'll listen on Jan. 20 and hope to find out.•
__________
Bohanon is a professor of economics at Ball State University. Styring is an economist and independent researcher. Both also blog at INforefront.com. Send comments to ibjedit@ibj.com.
Please enable JavaScript to view this content.