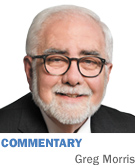 This is an updated version of a column from a few years ago. Its message is just as appropriate today as it was then.

Thanksgiving has come and gone. Can you believe it? Where has the year gone? Many company budgets are being finalized over the next few weeks. The holidays will come and go in a flash and we'll be able to put this year in the history books before you know what happened.

Even after the election we just lived through, I'm feeling mostly in a thankful mood. That has nothing to do with the election outcome; I'm just grateful it's over and, as I wrote in my last column, it's time to get back to business. I do realize many people aren't able to move on yet. It's early, and a positive outlook isn't in the cards right now. For that, I have great empathy; I really do. I'm hopeful time will heal most of the bad feelings that are so prevalent today.

But, no matter what else is going on in the world around us, in December I'm always focused on finishing the year strong financially and getting the new year off to a good start in January. The finishing-strong part usually happens, but feeling like you've got any traction for January can be elusive.

After mid-December, a lot of business folks concentrate only on what absolutely has to be accomplished before year-end. As the year comes to a close, it can be really tough to get business execs to think about first quarter or the upcoming year, even though they know they should. And many business folks don't really get back to full speed until the second or third week in January. By that time, the month is almost over from a revenue-generating standpoint.

Yes, it's already feeling like another typical January to me. January's worst qualities are snow, cold, ice and wind—a driver's nightmare. It takes twice as long to get to work and return home in January weather. When it comes to January, I think of what Al Pacino's character often said in the movie "Donnie Brasco"—"Forget about it."

So after all these years, I've officially decided something I already knew: I hate January. I figure the only logical solution is to pack up, go someplace warm, and work remotely until the weather improves and decision-makers get back to work.

Sorry to get off on a rant. It's just that the thought of January's quickly approaching makes me crazy. But I don't want to dwell on the negative; I want to concentrate on the positive. With that in mind, I'm thankful our company is finishing the year in a strong financial position and there's optimism for an even stronger year in 2017.

Like many industries, the media business has been especially challenging for several years now. Managing through challenging times is interesting. Sometimes, the most gratifying achievements occur while you're not feeling all that successful. In the course of implementing new procedures to accomplish tasks and goals more efficiently with fewer resources, sometimes you find out some amazing things. You discover you have an even more talented staff than you thought you had. You find out that great people can come together and accomplish great things working together as a dedicated team. Certainly that has been the case here at IBJ, and I'm feeling very thankful that I have the opportunity to work alongside such wonderful people.

History has shown it's a lot easier to feel good about life when everything is going great guns. But when things get tough, that's when you find out what you and your team and your company are made of. Legendary Green Bay Packers Coach Vince Lombardi was credited with saying, "It's easy to have faith in yourself and have discipline when you're a winner, when you're number one. What you've got to have is faith and discipline when you're not a winner."

I've got the faith for 2017! I hope you do, too. Thank you for your past and continued business. Thanks for reading IBJ. I wish you much success in 2017 and in the years to come.•

__________

Morris is publisher of IBJ. His column appears every other week. To comment on this column, send email to gmorris@ibj.com.