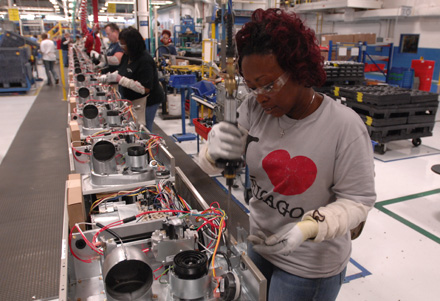 Carrier Corp. officials on Wednesday said their anticipation that President-elect Donald Trump's administration would "create an improved, more competitive U.S. business climate" prompted the company to retain 1,000 jobs in Indianapolis that it originally planned to ship to Mexico.
But some business experts and economists say U.S. manufacturing workers shouldn't get too excited about what the development means when it comes to Trump's ability to disrupt long-term manufacturing trends, given that most job losses in the industry are because of automation—not offshoring.
"I'm happy for the Carrier employees," said Mohan Tatikonda, professor of operations management at the Indiana University Kelley School of Business in Indianapolis. "But this is what I would call a spot solution. It's not a policy. It's not a strategy. It's not easily replicated. And it doesn't solve the underlying problem of manufacturing employment losses. It's a Band-Aid."
U.S. manufacturing output grew 17.6 percent from 2006 to 2013, or 2.2 percent per year, according to a 2015 Ball State University report. But because of higher productivity, the sector managed that growth while employing fewer people.
"Had we kept 2000-levels of productivity and applied them to 2010 levels of production, we would have required 20.9 million manufacturing workers," the report says. "Instead, we employed only 12.1 million."
William Rieber, a Butler University economics professor, said Trump's deal with Carrier does have "symbolic value."
"It does suggest he's trying to follow through on promises," Rieber said. "Even if it doesn't mean a great many manufacturing jobs over the years, it suggests he is making an effort. Most of us know the president has limited authority and power, given the checks and balances, but it is symbolic and it makes a big difference to Carrier employees."
The move could theoretically cause a "floodgate" to open among businesses seeking tax breaks, said Purdue University economics professor Anson Soderbery.
"If you think all you have to do is threaten to leave the state and you get a payout by the government, what would I credibly expect to happen? There are potentially going to be a lot of threats," Soderbery said.
The end result could be that the U.S. regresses into outdated global worldview, trying to "stop the natural force in specialization and efficient growth and move back where we were before in the 1920s and 1930s," Soderbery said.
"If Trump promised Carrier $65 million to stay in Indiana, it is an inefficient transfer," Soderbery said, referring to the amount Carrier announced it would save by moving local manufacturing to Mexico. "I have a really hard time coming around to that being a good policy. I'd rather see than $65 million going into retraining of workers for promotion to industries that we have an advantage in, that we can really do efficiently."
Reasons for staying
So why would Carrier choose to stay?
IBJ reported earlier Wednesday that the Indiana Economic Development Corp. has offered an incentive package to Carrier, which the company acknowledged was "an important consideration." It is unclear what the deal entails.
Fortune on Wednesday reported that the incentive package would include about $700,000 in annual tax breaks over a period of years.
However, former Lt. Gov. John Mutz, a member of the IEDC board, said Carrier's decision to stay likely had more to do with the possibility of its parent company, United Technologies Corp., losing a favorable relationship with federal contractors.
While Carrier expected to save $65 million per year by moving Indianapolis manufacturing to Mexico, the company takes in about $6 billion per year through federal contracts.
Though the president and vice president can't unilaterally pick winners and losers in the federal contract arena, Tatikonda said there "are certainly ways a president can influence things." Especially when it comes to United Technologies' ability to sell overseas.
"Some of their products, particularly those that are military-oriented or repurposed for military application, require different kinds of export approvals from the Department of Commerce and Department of State," Tatikonda said. "The point is that [the president] and his administration have influence over those, and those can be very lucrative or punitive."
Steve Jones, a finance professor in the IU Kelley School of Business in Indianapolis, said Trump's approach reminds him of former President John F. Kennedy's approach to dealing with the steel industry.
In 1962, Kennedy asked the steelworkers' union to "hold down" its request for higher wages. Then U.S. Steel unexpectedly raised the price of steel, prompting Kennedy to call the company's move a "wholly unjustifiable and irresponsible defiance of the public interest."
"Kennedy's administration intervened and used the muscle of the federal government to some extent," Jones said. "They basically said the Pentagon was going to re-evaluate its steel suppliers. I think other companies [now] are probably going to recognize they might face similar pressures if they decide to take jobs overseas."
Getting off on the right foot with a new presidential administration could also have public relations value to Carrier, which has been through the ringer this year after Trump continually called the company out on the campaign trail. That matters because the company sells its products directly to consumers or through distributors that interact with consumers.
"Given the force of Mr. Trump's comments and his personality, coming to agreement with the president-elect even before he starts his first day of office is a gracious way to compromise and save face—to simply move on," Tatikonda said. "Carrier Corp. has to be concerned with its brand image and brand value."
Worker woes?
Carrier isn't completing backtracking on plans to move Hoosier jobs to Mexico. Though Carrier has committed to retain 1,000 Indianapolis workers, another 400 local jobs are set to disappear. In addition, a United Technologies subsidiary in Huntington didn't reverse course on plans to shutter a 700-worker factory there and move those operations to Mexico.
Brett Voorhies, president of Indiana's AFL-CIO, said workers are anxious about "what kind of deal" Trump cut.
"Are they going to come in and say the union's got to take a 15-dollar-an-hour cut in pay?" Voorhies said "It will put the union in a tough position."
That's a realistic fear, Tatikonda said.
"We do not know what the wage rates are, what the shifts and hours will be, what the working conditions will be or how many years or months [the jobs will stay]," Tatikonda said. "This is not going back to the way it was a year ago."
Carrier and Trump are expected to announce more details about the deal Thursday in Indianapolis. An announcement will come at 1 p.m. followed by a press conference at 2 p.m.
Please enable JavaScript to view this content.