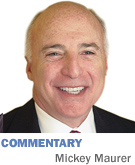 I am taking a hiatus from this column until sometime next year in order to complete a book. Our editors will publish a favorite column once a month. This one is from 2004.
"If you can't stop in, smile as you go by."
This kind request graced the fence enclosing the salvage yard known as Maurer Brothers Auto Parts at Ninth Street and Senate Avenue.
The proprietors of this business, later renamed Wrecks Inc., were my father and uncle. The neighborhood also boasted a number of other small, family owned businesses, including Swancy's Auto Laundry, Chamber's Standard Station, Stuart's Moving & Storage and Cooper's Diner. The "'s" in each name connoted proud, hard-working businessmen. There were no national firms and no franchisees.
This was my world on Saturdays and every summer from age 10 until midway through college, when I was able to apply new skills to a job in the office of an accountant. It was the age when Cokes were a nickel, pay telephones were a dime, and we would sell you a good used tire for a five-dollar bill. It was basic capitalism, where the rubber actually met the road.
Everything in the place was for sale, and every price was subject to negotiation. It was where I was introduced to the game of business. Everyone came to Wreck's on Saturday. Business was transacted in English, Spanish, Yiddish and the argot of the neighborhood. Telephones rang continually. Uncle Mickey became famous for juggling phones while conducting four or five simultaneous conversations.
Most customers were honest, but some were caught walking into the yard and attempting to throw a car part over the fence when the salesman wasn't looking, with the intention of driving by and picking it up later. They received a severe reprimand from my uncle and were allowed to go.
Most of the customers felt they could out-negotiate a 10-year-old boy. You see, I was allowed to participate in the process, even though my head did not reach the top of the counter. Customers would place orders and wait to have the part removed from a car and brought to the front of the yard. The purchase price was then determined pursuant to negotiations between the parties.
Too often, people say negotiation is fair if each side is a little disappointed. My father and uncle felt differently. In addition to obtaining a fair price for the product, they felt it was important that customers were pleased with their bargain. A successful negotiation occurred only when both parties were satisfied. Obviously, a satisfied customer is likely to return, but also, pushing an unfair advantage was offensive to my father's and uncle's sense of fair play.
Working at Wreck's Inc. was hard labor. I was often tired and always dirty, but I had a sense of excitement with my first participation in this great game. Nonetheless, I knew I didn't wish to make used auto parts a career. In fact, it was the threat of permanent employment at Wreck's Inc. that kept me in law school. As soon as I landed that accounting gig, I bid my uncle and father adieu.
I have not forgotten my experiences at Ninth and Senate, and I have shared these ideals with my children. (Is it any wonder our son Todd set the curve in his negotiation class in law school?) This month is the anniversary of my father's death. He would have been in his 85th year had he not worked himself to death by age 53 so many years ago. Driving home from the Indianapolis Business Journal the other night, I diverted to Senate Avenue. As I crossed Ninth Street, I reflected on the neighborhood, the people and the lessons learned. I hoped my father would be proud. I smiled as I went by.
Update: Just the other night as I was driving home from downtown I found myself once again on Senate Avenue in front of Swancy's Auto Laundry—still washing cars. It reminded me of my father and my uncle, so I chose this column. I hope you enjoyed it.•
__________
Maurer is a shareholder in IBJ Media Corp., which owns Indianapolis Business Journal. To comment on this column, send e-mail to mmaurer@ibj.com.
Please enable JavaScript to view this content.