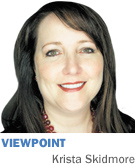 This month, Marion County reaches the next milestone in the journey toward an enhanced transit system. The City-County Council will address the 0.25 percent economic development income tax that voters approved to fund the Marion County Transit Plan.

This should be a pretty straightforward matter. After all, the council decided in May to let voters have their say regarding a tax to support improved transit, and in November, nearly 60 percent of voters in 79 precincts countywide said yes to the tax.

Councilors on both sides of the aisle committed their support, and we thank them for their leadership.

But some councilors—even in districts that voted in favor of the tax—have suggested they might vote against the transit measure.

That's why Indianapolis residents must let their councilors know they expect them to support transit.

I look at this issue from a few perspectives.

First, I offer the perspective of someone who has studied transit and its impact on communities. I was privileged to be among a handful of leaders from Indianapolis who participated in the Transportation Innovation Academy, which brought together people from Indianapolis; Nashville, Tennessee; and Raleigh, North Carolina, to learn about transit options and best practices.

We saw transit's impact firsthand and heard from leaders in communities where transit works. We learned that, while specific transit solutions vary, many of the driving forces behind transit are the same.

Residents want access to jobs, public services and amenities. Employers want access to workers. People want less traffic, greater safety and more transit stops near home and work. Communities want to reduce reliance on cars, increase walkability and offer more transportation options.

Through that process, I learned a lot, but one thing especially hit home: Cities that don't invest in transit, or that invest too slowly, lose—businesses lose out on top talent, residents lose out on opportunities, less-advantaged citizens lose out on basic services, and everyone loses out on what might have been.

I also offer the perspective of a business owner who relies on a vibrant economy to succeed.

I need our community to attract the best and brightest employers and employees by offering them the community they want for their families. More and more, the best and brightest want transit. If we fail to provide it, they will bypass Indianapolis.

Finally, I offer this perspective as someone who has had the honor of working alongside dedicated people to help Indianapolis maintain its standing as a city that leads.

Indianapolis is known as a leader not because we are always first to jump into something new, but because we look for opportunity, assess long-term potential and make critical investments ahead of the curve.

It's the kind of leadership that has led peer cities to copy our amateur sports strategy, our downtown revitalization, our bike and pedestrian trails, and more.

It's the kind of leadership people expect from our council.

The people have spoken. They see the importance of investing in transit for our future, a future that will be more equitable and will advance all citizens, with access to jobs, health care, education and more.

Don't assume that your vote in November will ensure that the council votes in support of enhanced transit for Marion County. Contact your councilor and reiterate your support for transit.

If enough of us do that, the council's decision will be every bit as straightforward as it should be.•

__________

Skidmore is co-founder and partner at leadership consulting firm FlashPoint.