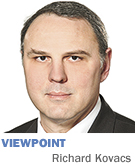 One of the biggest challenges facing our nation is health care reform. Despite development of the most innovative and significant
advances in medical treatment, our ability as health care professionals to provide high-quality, cost-effective and continual
patient care too often falls by the wayside as a result of misalignments in our health care system.
Medical groups
in Indiana and around the country have an opportunity in this time of change to pre-emptively address the need for health
care reform with a stronger emphasis on patient care and disease prevention.
Heart disease is the leading killer
in both Indiana and the nation, and 43 percent of all Medicare dollars are spent on heart disease. In Indiana, heart disease
and stroke accounted for 32 percent of all deaths in 2005, according to the Centers for Disease Control and Prevention. As
the Indiana population expands and grows older, heart disease, stroke and the economic costs associated with treatment and
rehabilitation will only increase.
States like Indiana that have large rural areas are especially at risk. Nearly
50 million people in rural America have difficulty gaining access to health care, according to a report released earlier this
month by Health and Human Services Secretary Kathleen Sebelius. These individuals report more health problems, are more likely
to be uninsured, and are likely to have greater difficulty finding a primary health care provider than those in urban areas.
In addition, obesity, diabetes, heart disease and high blood pressure are more common among rural residents, all of which
are chronic conditions driving up the cost of care.
I recently spent time in Washington, D.C., talking to our elected
officials about the importance of health care reform and educating them about the role health care professionals can and should
play in reform efforts. The American College of Cardiology has developed a series of action plans that, with the support of
Congress, Medicare and other stakeholders, can make major contributions in both cardiovascular care and overall system reform.
Included are proposals to reduce cardiovascular-related hospital readmission rates, limit inappropriate imaging, reduce
geographic variations in care, and restructure the physician reimbursement process so it rewards for quality—rather
than quantity—of care.
Improving partnerships with patients and getting them involved in care decisions is
also critical. Patients who are involved and invested in their care and work with their doctors as equal partners just do
better. For example, patients who are enrolled in outpatient heart-failure-management programs that require them to take an
active role in managing their disease have fewer hospital admissions, better quality of life, and lower death rates than patients
who do not participate in their own care, according to a study reported in The New England Journal of Medicine. Health
care reform plans should encourage such patient involvement.
The implementation and use of health information technology
is also key to supporting quality care. The Obama administration and Congress recognized that this year when they provided
$20 billion in funding for health IT. Health IT systems are the foundation on which to build a better health care delivery
system. They have the potential to increase coordination across sources and sites of care, decrease duplication and improve
efficiency. To be successful, however, they must be interoperable and provide decision-support tools, like guideline-recommended
therapies, at the point of care. Without these elements, health IT becomes just another promise.
The time is now
to move on health care reform. We must impress upon our lawmakers the importance of acting to put in place incentives and
structures that allow health care providers and patients to work together toward more effective and efficient health care
for all Americans.•
__________
Kovacs is clinical director of the Krannert Institute of Cardiology
and president-elect of the American College of Cardiology.
Please enable JavaScript to view this content.