John Elliott wants Gleaners Food Bank of Indiana Inc. to get the most bites for its buck.

Elliott, who took over as CEO and president of the state's largest food bank in September, has spent the last four months focused on opening the not-for-profit to new ideas that could lead to feeding more people on fewer dollars.

Some of the initiatives got started under Cindy Hubert, who led the organization for six years before retiring in September. Elliott, who served on the Gleaners board before taking the CEO role, plans to build off that momentum.

Under Huber, programs for children, families and seniors grew, along with the not-for-profit's staff and facility.

Its on-site food pantry, known as Community Cupboard, opened last year, and 53 school-based pantries have launched in the last three years.

The expansion has come at a cost, though. Gleaners ended fiscal 2015 with a nearly $4 million deficit—and it had gaps above $1.5 million in both 2014 and 2013.

The group attributes some of those gaps to multiyear gifts' being recorded in one year and spent in another, as well as fluctuations in dollar values assigned to food donations, but Elliott said the organization "stepped out on a limb" to address what it saw as an urgent need to feed more Hoosiers.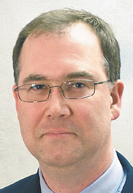 Elliott
"Gleaners made a conscious strategic decision to start aggressively feeding more of the hungry families, particularly children … out ahead of fundraising results as we began to raise awareness of Gleaners and expand capacity for fundraising," Elliott said. "So we're now at a point of letting the fundraising capacity catch up with that program expansion."

Elliott's focus on efficiency does not involve rolling back programs. Instead, he hopes to keep growing and, through partnerships, to offer what he describes as "wraparound services," like flu shots and eye exams.

He also wants to offer more of Gleaners' unused space in its 300,000-square-foot building to related organizations and use the food bank's resources to support other hunger-relief agencies.

"The future I'd like to see at Gleaners is even more of the collaborative, problem- or challenge-identification and -resolution that we see through groups like Indy Hunger Network or the state food bank association," Elliott said.

He's already seeing progress. A pilot produce-mixing center that would serve 40 food banks from eight states is on tap to launch this spring at Gleaners. If it's successful, it could become permanent.

And this month, Indianapolis-based Lilly Endowment Inc. announced a$10 million gift to Gleaners to provide long-term financial support. It's the largest single donation ever received by the not-for-profit, although most of the money will go into the group's endowment and remain untouchable.

"While this is very generous, I have a bit of anxiety that other Gleaners donors—current and prospective Gleaners donors—might misunderstand and think that we don't need their donations or resources, and the reality is, we do," Elliott said.


Different kinds of donations

Gleaners leaders caution that the budget's bottom line doesn't tell its whole story.

The not-for-profit collects about80 percent of its donations through food contributions and 20 percent in cash, so "any change in food significantly skews the total," Elliott said.

The value of Gleaners' food donations dropped 15 percent, from $45.4 million in 2014 to $38.4 million in 2015, according to an audit. Cash donations dropped 16 percent, from $11.4 million to $9.6 million.

Emily Weikert Bryant, executive director of Feeding Indiana's Hungry, said food banks typically have a different financial picture than other not-for-profits because the majority of their donations are products, not cash.

"Our financials may look different based on how" food values are assigned, Bryant said.

Another reason the year-to-year numbers can be misleading is that donations are recorded in the year they're received, even if that money is then spent over several years, said Joe Slater, Gleaners chief financial and operations officer.

"Sometimes that makes it look [in later years] like you're losing money," Slater said. "When in fact, you just got the money upfront."

And regardless of the yearly surplus or deficit, officials said the organization has a solid asset base. At the end of FY 2015, assets were valued at $16.1 million.

"It's safe to say the organization and the board knew that cash reserves were available," Elliott said.

Gleaners also had a small endowment—$165,600 in 2015—that is now substantially larger thanks to the recent grant from the Lilly Endowment, which will put $9.5 million into a restricted fund.

While the principal amount in the endowment can't be spent, the interest it generates can. Elliott said he expects that interest to cover 2.5 percent of Gleaner's annual cash need of $8 million.

The remaining $500,000 from the Lilly Endowment will be used to add three staff positions and upgrade technology and software.

"We had prioritized spending money on food rather than software upgrades in the past," Elliott said. "Without the money from this grant, we don't know how long it would have been before we made those investments."

The final numbers aren't in for 2016 yet, but Gleaners officials said they expect the bottom line to be similar to that of 2015.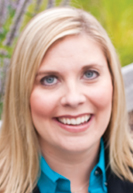 Bryant
The last quarter of calendar year 2016 proved particularly difficult. Elliott said the group usually receives about one-third of yearly donations during that quarter. But this year, it entered the last 10 days of December down 18 percent.

Gleaners, along with other hunger-relief agencies, publicized the concern and Elliott credited media coverage for boosting donations. Gleaners finished the month about 4.5 percent above budget.

Going forward, Elliott wants to shift focus from labor-intensive food drives to attracting more cash donations. The more direct funds the organization has, the more food it can purchase at a steep discount from manufacturers like Kellogg's, Kraft Foods and Nabisco.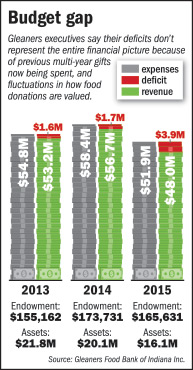 "We need to be able to do more of that because we deliver more meals per dollar," Elliott said.

Bryant said that's a shift many other food banks are making or considering.

"There will always be food drives and it's a great way to engage the community," she said. "But certainly, donations of the monetary variety enable food banks to purchase specific items that might be needed for a specific program."

New leader, new ideas

Elliott's transition to Gleaners was a surprise. He was happy working as manager of public affairs and media spokesman for Kroger Co.'s Central Division—a job he held for nine years—and wasn't job hunting when Huber told him and the board chairman about her plans to retire.

During the same meeting, she asked Elliott what he thought about taking over for her. In his role with Kroger, Elliott oversaw the charitable giving.

"It was good timing for me to consider an opportunity that would allow me to focus all day, every day on a charitable mission that I was already passionate about," Elliott said.

His passion for developing Gleaners partnerships is helping the food pantry capitalize even further on the benefit of being the largest food bank in the state in a facility that has more than enough space.

Gleaners already provides free office space to the Indy Hunger Network and storage to various organizations like Teachers' Treasures and Keep Indianapolis Beautiful. Now, its extra space has helped it score a pilot program through Feeding America, the nationwide network of food banks.

Feeding America is establishing eight produce-mixing and distribution centers throughout the country, and Gleaners' facility will be the location for the Midwest region. Two others—in St. Paul, Minnesota, and Dallas—have already opened.

Elliott said the center would function like a co-op, with 40 food banks from eight states sharing the operating costs with the ability to purchase items.

The pilot program is set to launch in March and run for six months. Elliott said if the experiment is deemed successful, the produce center will be permanently located at Gleaners.

"You think about the opportunity that brings … if it was just Gleaners buying, we wouldn't buy an entire truckload of squash or blueberries or cantaloupe," Elliott said.

And he's determined to get the most produce possible for Gleaners clients—which means raising more money.

"It would be a shame if Gleaners hosted this huge produce operation and we have truckload after truckload of produce coming in the inbound dock and yet we haven't been able to raise enough additional donations to buy our share of that produce," Elliott said.•