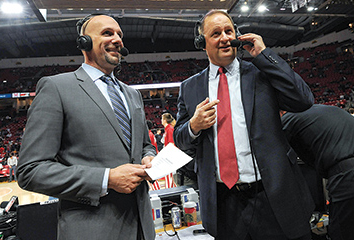 Life for Dan Dakich changed course like a crossover dribble when he saw his father's lifeless body lying on the ground at the Tesla dealership at The Fashion Mall at Keystone on April 8, 2014.
"You ever seen a dead body?" Dakich asked, peering up from his plate of bacon and eggs at a recent breakfast at Cafe Patachou, a couple of blocks from where he does his daily radio show on Monument Circle.
Dakich, a former Indiana University basketball-player-turned-coach-turned-broadcast-personality, still deploys the same take-no-bull style he always has on his weekday radio show on WFNI-AM 1070.
But the big picture changed that day, he said. His goals, including his desire to coach at the highest levels. His relationships with those closest to him—friends, colleagues and family. And his outlook on life. It all changed.
Dakich was headed to meet his parents for lunch when he got the frantic call from his mom. His parents had just returned from a vacation in Costa Rica, where they enjoyed riding zip lines, among other adventures.
"As soon as I walked in, I thought, 'Oh my god, this is bad,'" he said, looking back down at his plate. His dad, a teacher and principal for 41 years, had just turned 80.
"He was so full of life," he added. "He was my hero. I would have liked to have had a moment with him to tell him how much I love him."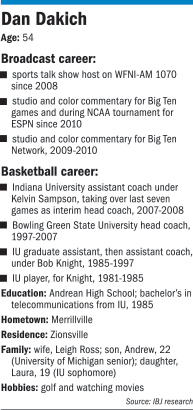 Tom Dakich's life wasn't the only thing extinguished that day. The embers of the fiery yearning that once burned inside Dan Dakich to be a big-time college coach were gone too—for good, he said. His emphasis on work first also vanished.
But you might never know anything changed if you only listen to him on the radio.
That's because Dakich, 54, is nothing if not enigmatic.
Off the air, he's casual, mostly easygoing and affable, even to strangers. He said being fired in 2007 as Bowling Green State University's basketball coach, his jolting departure from the IU program in 2008, and his father's death all have given him perspective, helped him to slow down and loosen his iron-fisted grip on his life.
Yet on the air, he's a cyclone, talking a million miles an hour, often tearing into anything in his way. He'll rip Andrew Luck one minute, then Donald Trump and Hillary Clinton the next. Not even Dakich's former coach and boss—the legendary Bob Knight—is safe from his venom.
"I don't give a rat's ass if some old man is still so frickin' bitter he cannot overcome his own ego to come back and celebrate a team that made him famous, that made him more money, that gave him more enjoyment," Dakich said on the air a year ago, after Knight declined to attend a ceremony celebrating the school's 1976 national champion team.
The fact that "he couldn't come back for those guys in my mind makes him an incredibly small human being," Dakich railed. "And I don't give a rat's ass whether or not any of Coach Knight's friends—Bob Hammel, Timmy Knight, anybody—comes at me … ."
Once, Dakich invited Jeremy Russotti—founder of Prolific Prep, a training program for top basketball talent—to appear on his show after the two exchanged barbs on Twitter.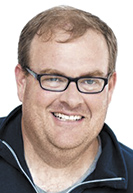 Rakestraw
Dakich barely let Russotti, whose name he'd mispronounced, get started when he seethed, "I don't respect you enough to learn your name. You are a punk; you are the dumbest person I know."
Twitter is a frequent outpost for Dakich's biting sentiments. He's been in Twitter wars with, among others, former IU player A.J. Guyton; the mayor of Champaign, Illinois; Colts punter Pat McAfee; and a young, aspiring sports broadcaster whom he threatened to blackball in the industry but later asked to appear on his show.
And he takes on local sports reporters and even tells listeners to "shut the hell up!"
Dakich even seems at odds with himself.
In one breath, he's talking about eliminating "drama" in his life. But his show—and his actions on social media—continue to cause plenty of it. The Merrillville native said his direct, on-air style comes from his upbringing.
"I know I can be caustic," he said. "Sure, I beat up on the idiots, but what are you going to do? My wife said that's the northwest Indiana side coming out of me."
Dakich said people who listen to his show regularly know he's reasonable and more caring than he might at first appear.
Drawing listeners
At least this much about Dakich is indisputable: He's among the most listened-to radio hosts in central Indiana—and that extends beyond the world of sports.
"He's like the local sports version of Rush Limbaugh," said Kent Sterling, host of an afternoon drive-time sports-talk show on WXNT-AM 1430. "You either love him or hate him, but you listen to him."
Dakich also has made a name for himself nationally, as one of ESPN's primary college basketball analysts and color commentators.
Mike Tirico, who worked alongside Dakich calling college games at ESPN, said Dakich is simultaneously "a natural and rough around the edges" when it comes to broadcasting. "That's part of his appeal."
"My goal after every game I worked with Dan was to make sure I didn't get fired," Tirico, who now works at NBC, said with a laugh. "He made me feel so relaxed and the conversation so natural that I felt freer to say whatever came to mind, whatever I wanted, and I always worried I would say something on air I shouldn't. That ability to make it a free-flowing conversation is one of the things that makes him so good."
Dakich's show, which airs from noon to 3 p.m. weekdays, is especially strong with men, even rivaling ESPN's nationally syndicated "Mike & Mike Show" in this market.
On most days, Dakich has the highest market share of any of WFNI's local shows, according to New York-based Nielsen Audio.
He's become so popular that ESPN 1000 in Chicago tried to lure him away last summer. WFNI, Dakich said, matched the hefty offer.
Learning from death
This day at Cafe Patachou finds Dakich as eager to talk about his personal philosophy and private life as his career and public persona. He and his first wife—with whom he has two adult children—divorced in 2012. And 18 months ago, he married Leigh Ross Dakich, a former college softball coach.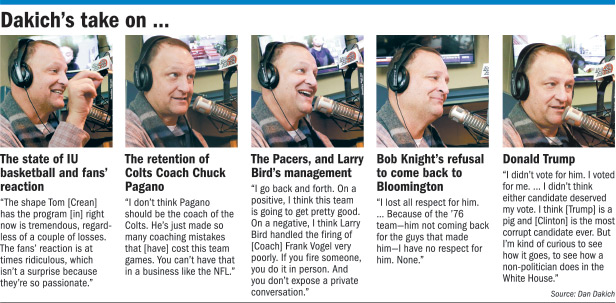 Dakich has learned a lot about his life in moments of death, he explains as he rips the edge off a piece of toast about an hour before his show.
This particular morning finds him pondering not only the passing of his dad, but also the passing several years ago of a parent of one of his best friends. Dakich didn't go to the funeral. He was too busy coaching the Bowling Green men's basketball team.
"Was beating Akron that important?" he said. "Was being at some film session more important than a person's life?"
He pauses to ponder another funeral—one he plans to attend in a few days, one he'd likely have missed if he were still coaching.
He said his dad's death was the hammer that drove the point home.
"I all of a sudden saw, 'Holy cow! How important is all this stuff really?'" Dakich said. "I thought, 'You better do a better job of taking care of the people around you and better [job of] enjoying everything around you.' It hit me, 'You could die tomorrow.'"
So when Dakich is asked if he ever contemplates going back into coaching, he doesn't hesitate.
"Never."
It wasn't always that way. Dakich is a self-described obsessive-compulsive, and it took him a while to shake the hankering for the coaching highs.
He wanted to coach IU full time after a stint as interim head coach in 2008. But, he added, "I knew internally it would have been the worst thing for me. My daughter told me that, and she was in the sixth grade at the time."
He first appeared on WFNI in 2008 as a guest host while trying to figure out his future. He was swept out at IU after the school hired Head Coach Tom Crean. Even after he took the radio gig full time later that year, he still occasionally contemplated returning to coaching.
'Never, ever boring'
Dakich's hiring at WFNI "The Fan" was seen as risky, said Sterling, who was in charge of programming at the time.
"People said, 'You're crazy for hiring him.' The Fan was pretty new and we were trying to build a brand, and I think there was some fear that he would move the needle and bounce out to head back to coaching," Sterling said.
But there was another concern.
"When I first heard the concept for a Dan Dakich radio show, I said, 'That would be great during basketball season, but what else does he know?'" said Greg Rakestraw, who worked for a competing local sports station in 2008 but is now WFNI's program director.
Sterling, whose relationship with Dakich goes back more than 25 years, had no such doubts.
"He's an interesting assessor of humanity, as good a storyteller as there is and never, ever boring," he said.
Sources familiar with Dakich's contracts said he makes as much if not more now in radio and TV than most mid-major college basketball coaches (Bowling Green's current coach makes more than $400,000). Dakich said it's not about the money.
"People always say, 'If you're so smart, why don't you go back into coaching?'" Dakich said. "And I answer, 'Because I'm so smart. … Every college coach I know is miserable.'"
By contrast, Dakich said there's "nothing, not one single thing" he doesn't like about his broadcasting jobs. He has no complaints about working 80 hours a week and covering at least 55 games a year for ESPN during basketball season. The rest of the year, he said, "I'm staring down the barrel of a 15-hour work week."
That might be an exaggeration.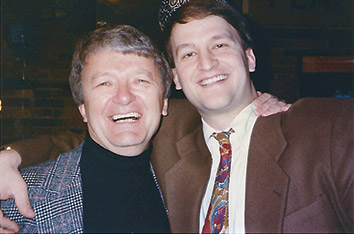 Dan Dakich says he admired his dad's acceptance of people from all walks of life. (Photo courtesy of Dan Dakich)
Dakich reads voraciously in preparation for his radio show, said his WFNI co-workers. And ESPN officials note that he watches hours of tape before he calls a game.
For the IU-Maryland game on Jan. 10, Dakich watched three IU games—and he watched each one four times in four different ways. He watched once without the sound, once with the sound to pick up nuggets on the teams and players, once just to see the team's offensive sets, and once for their defensive sets. He did the same for Maryland. He follows that routine for every game he calls.
Besides, Dakich said, if he grumbled about his job, there would be hell to pay from the people he grew up with in The Region.
"If I complained, I'd have five guys beat the shit out of me," Dakich said. "I grew up with cops, firefighters and steel workers. A lot of steel workers. Now that's work."
Making enemies
Dakich recently signed a three-year contract with WFNI that began Jan. 17. He also re-upped for another three years with ESPN in a deal that begins July 1, he said.
Tirico isn't surprised Dakich is in demand, calling him "one of the most honest, refreshing and enjoyable people I've ever worked with."
"Calling a game with Dan is two hours of absolute joy," he added. "I miss that as much as anything I ever did at ESPN."
Not everyone is so fond of Dakich, who, before joining The Fan and ESPN, was best known for stopping North Carolina's Michael Jordan in the 1984 NCAA regional semi-final, a game in which IU upset the Tar Heels.
Three local journalists declined to comment about Dakich on the record for this story, sighting multiple disagreements with him. Several well-known personalities, including WTHR-TV Channel 13 sportswriter Bob Kravitz, refuse to go on his show.
Dakich admits he doesn't shy away from confrontation. The battles he has with local media members, he said all stem "from having an opinion they don't agree with, and that's frustrating. People around here are incredibly insecure about having their opinions challenged. That's what sports-talk is all about."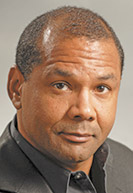 Bryant.
Still, his mother, Roberta, a schoolteacher for 39 years, said he's the quietest and shiest of her three children. And Tirico said Dakich is "totally gracious" to everyone from doormen to executives, on air or off.
But Sterling said Dakich changes when he gets behind a mic—especially for his radio show and especially when talking about the media.
"Sitting in a room by yourself talking about people and sports and careers, you can sometimes forget what you say is spilling into cars, homes and offices across central Indiana," Sterling said. "Dan is an extremely likable guy, and I wish he'd let that show through a little more."
Dakich seems unconcerned with his image. "If I wanted to, I could make a lot of people like me," Dakich said.
Advertisers aplenty
All the vitriol aimed at Dakich—and there's plenty of it on the internet—has done little to scare advertisers from his radio show.
Bob Richards, vice president of Emmis Communications Corp., WFNI's parent, said that, while the station gets complaints about Dakich, his value to the station is undeniable. "The bottom line is, Dan is one of the most in-demand personalities we have."
Dakich personally endorses HHGregg, Today's Dentistry, Family Leisure, Hubler Chevrolet, BSN Sports, Steffey Insurance, Fourwinds Lakeside Inn and Leon Tailoring Co. Dozens of other companies advertise on his show.
Local advertising executive Bruce Bryant said he has no hesitancy about buying spots on the show for clients.
"He has a unique product in the marketplace," said Bryant, president of Promotus Advertising. "Dan does a sports show, but his appeal is much broader than sports. If there's something going on in sports or in the community, you want to know Dan's take on it—even if it makes you cringe."•
Please enable JavaScript to view this content.