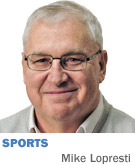 BLOOMINGTON—This is the room where it happens. It is 7 o'clock on a Friday night, and a 70-year-old cancer survivor sits at his computer, taking a look at the first salvo of high school basketball results.

John Harrell will still be there in his chair at midnight. In the five hours in between, he will have gotten up but once, for a short break, because the scores keep flowing in. And thousands of Hoosiers are out there, clicking on their cell phones or iPads, or laptops, hungry for his handiwork.

How could they know it all comes from here, one man sitting in what used to be his daughter's bedroom, curtains pulled, lamp on, the only noise the faint voices from the "Jeopardy" show his wife is watching in the living room, on a quiet street on the west edge of Bloomington?

John Harrell? Name doesn't ring a bell? Oh, it should, if you care about high school basketball or football in Indiana. Listen to those who know.

North Central basketball coach Doug Mitchell: "If he ever goes away, I don't know what I'm going to do. I'll have to quit coaching."

McCutcheon basketball coach Rick Peckinpaugh: "Everything you want to know about basketball in Indiana is right there."

IHSAA Commissioner Bobby Cox: "I go to his website all the time. That's kind of how I figure out where I'm going to go to a game."

On Harrell's site, indianahsbasketball.homestead.com—which is linked to the IHSAA website—are up-to-date scores, schedules, coaching records, game capsules and predictions, tournament pairings, power ratings (with the help of noted metrics guru Jeff Sagarin), history, maps to schools. Just about everything on boys and girls basketball and football but the names of the cheerleaders.

On a busy basketball Friday night, he will get 150,000 page views. He has 10,267 Twitter followers, and virtually all of them wouldn't know Harrell if he walked into the room.

"Never met the man. I would love to meet him," Mitchell said.

"I don't know how many people he has working for him," Peckinpaugh said.

Harrell gets a chuckle at that one.

"Well," he says, leaning back in his chair. "I'm it."

So maybe we should meet him. Grew up in Huntington, but not as an athlete. Cut from his high school basketball team. Met his future wife, Martha, in a soda shop—she was serving, he was buying. Went to Huntington College, then into the newspaper business, which eventually led him to Bloomington. Always with a deep, pure and unquenchable love for high school sports, which is why the Bloomington paper for years carried box scores from every regional in the state. Harrell's doing.

He retired, got this website going in 2000, and now look at him.

He doesn't do it for the money, because a few Google ads are all the revenue produced. He doesn't do it to stay busy. A man with four kids and seven grandkids could find other options.

Why, then? Easy. Everyone needs a life's passion. This is his.

"I really enjoy it," he says, and that's enough. That's why he is in front of that computer so many hours, keeping track of 5,000 boys' games, 5,000 girls' games, 1,700 football games. Doesn't leave time for much else on a weekend.

"I would have to probably say there are a lot of women who would already be divorced," Martha says, sitting in her living room on this Friday night, her husband of 47 years sequestered off with his scores. "But it's what he loves to do."

The games stop for nothing, except maybe snow (Don't get Harrell started on what a pain postponements can be). So if he is going to accomplish his mission—every score, every school, every night—the rest of his life must make do.

A Christmas family get-together?

"They've got the kids on the floor unwrapping gifts, and the adults playing games," he says. "And I'm over in the corner trying to update all these holiday tournaments."

A visit to Canada to see his daughter? "We're in a hotel room, and he gets mad because the internet's slower," Martha says.

The time he had to be in the hospital, on a football Friday night? There he was in bed with his laptop, even after being released. "We didn't leave until about 11:30, when I had most of the scores."

Seldom are there chances for the man who loves the games to actually watch them. He estimated you could count on one hand the number of regular-season basketball games he's seen since 2000. Last February, Huntington North invited its native son to a game to honor him. He accepted, as long as he could have internet access.

By the fourth quarter, he was updating scores, computer in his lap. He was still at it long after the gym emptied.

"I think they left a light on for him to finish," Martha says.

One question coaches always ask. How does he do it? To find out, let's spend one Friday night with him.

7:10 p.m. First girls' scores come in from the girl-boy doubleheaders. Twitter is Harrell's indispensable ally. That's where he gets most of his scores, from athletic directors and coaches and fans who tweet from the gyms.

And there is no typing the scores. He has Dragon voice recognition, so when he reads them, they appear on his screen.

"I'm terrible at typing. People say, 'How do you get it on there so fast? You must be a fast typist.' I cheat."

So his mantra begins ...

"Danville, 71; North Montgomery, 30. New line."

"Greencastle, 62; North Putnam, 15. New line."

7:30 p.m. The rhythm of Harrell's nightly life: Keep clicking on the mouse to check Twitter, check websites, check his email. Get the scores, read them, update them. From many places, he is getting scores from games in progress.

"The frustrating part is, you'll get everything for 31 minutes, and they won't tweet the final score. I pull my hair out on that."

The constant feeds keep him informed of everything happening outside his own window, in terms of high school basketball.

"Someone says they just ran the picket fence at Greencastle," he says.

"[Michigan State Coach Tom] Izzo's at Fort Wayne Northside."

"Romeo Langford's 18 for 23."

"One thing I've noticed—Twitter really calms down when IU is playing."

Harrell laughs easily, and he tells the story of the night he was late getting to his computer because of a church meeting. Didn't log on until maybe 9:15, and already there were those out there wondering why no scores yet. "I went to my email and the first one said, 'John, are you OK?' He thought something had happened to me."

8 p.m. Most of the girls' scores are in, so he has a moment to reflect.

On his anonymity, for instance.

"I've always liked staying in the background. I'm not very out there at all. I am bothering athletic directors all the time. I hate to do that."

On financially supporting the site. "Some people have said I should make it a paying site. I'd lose it then. Nobody is going to pay for this. I'd hate to make the schools pay."

On how long he will stay at it. "As long as I can keep doing it. People ask what happens after I go? I don't know. I would hope my family would keep it."

8:45 p.m. The pace quickens as the boys' scores start coming in by the dozens. Crunch time.

9:40 p.m. He prints out a list of missing games. Time to go on his scavenger hunt, tracking them down, marking through each with a red pen.

Martha is still in the living room, spending her customary Friday night listening to her husband's voice reading out the scores so many avidly await.

"I just don't get it, how people are so interested in it," she says.

So is there ever any together time on a weekend? "We can hit a movie on Sunday afternoon. We can't this Sunday because it's the [girls] draw."

10:23 p.m. What once was a flood is now a trickle. He's down to 15 boys' games and five girls' games, and sends out a tweet asking for scores.

11:23 p.m. Martha is off to bed. John tweets out one more request. Two scores come in. Two more red lines drawn.

Midnight. Time for Harrell to call it a night. He hits the buttons he needs for his data base to update the standings and records, and emails the night's results to Sagarin for new computer power ratings. The count for the evening: 189 scores reported, 17 postponements, eight games missing.

"I didn't do so well tonight," he says, signing off.

The Bloomington Lighthouse-Medora result will have to wait until morning, but he'll find it in the end. He almost always does. It's love.•

__________

Lopresti is a lifelong resident of Richmond and a graduate of Ball State University. He was a columnist for USA Today and Gannett newspapers for 31 years; he covered 34 Final Fours, 30 Super Bowls, 32 World Series and 16 Olympics. His column appears weekly. He can be reached at mlopresti@ibj.com.