After so many years of trying to tap every possible cubicle-dweller for donations, United Way of Central Indiana is putting
more effort into the richest veins in the workplace—the folks in corner offices.
About 350 people give
the human services umbrella organization at least $10,000 a year, but UWCI wants to see wealthy Hoosiers clear the high hurdle
of $25,000 and become "principal" donors.
Every not-for-profit wants more money, of course, but United
Way of Central Indiana says it lags chapters in other Midwestern cities in netting extra-large gifts. UWCI has 22 "principal"
donors, far less than Columbus, Ohio (64), Cincinnati (70) and Milwaukee (100).

Lilly CEO John Lechleiter recently pledged
$1 million to United Way.
Based on the number of wealth-producing corporate headquarters in central
Indiana, Angela Dabney, the local United Way's senior vice president of resource development, said
she'd like to boost the number to 40 over the next several years.
The effort to recruit more big-dollar
donors comes as the local United Way faces a sharp increase in demand from health and human-service agencies. At the same
time, it's taking in less from its core supporters—rank-and-file employees.
The annual campaign
that ended in March raised $38.8 million, which was short of the $40 million goal, and slightly less than last year's
$39 million. United Way hasn't yet announced a goal for the next campaign, which typically begins in the fall. 

Dabney
Dabney thinks this is an opportune time to make a case to wealthy people.
"The economy is a
motivator for some to do a little more," she said. "It's very visible. It's very
much there."
CEO challenge
United Way is relying on the tried-and-true method
of trumpeting large gifts from influential people as a "challenge" to others. The effort
began last October, when WellPoint Inc. CEO Angela Braly and her husband, Doug, pledged $300,000.
The money is being used for matching gifts to allow people to enter United Way's
Tocqueville Society, which has a minimum donation of $10,000, or Women United, which requires $2,500.
The push
for large donors got a big lift with a recent $1 million pledge from Eli Lilly and Co. CEO John Lechleiter
and his wife, Sarah. The Lechleiter pledge, announced July 28, prompted four more pledges that are worth more
than $100,000 combined.
The donors are Hal Darring, CEO of Global Parking System Inc.; Alan Mills, a partner
at Barnes and Thornburg; Vince Caponi, CEO of St. Vincent Health; and Andreas Sashegyi, research adviser at Lilly.
Mills is a typical United Way prospect. The 51-year-old is a longtime donor and member of the minority Key Club. He also
served on the board at a community center that receives United Way money.
Mills said a United Way staffer had
been talking to him about the big gift for the past six months. "I told her I'd be thinking about it."
United Way invited Mills and others to a gathering at the Columbia Club the evening of the Lechleiters' announcement.
Mills made his undisclosed pledge then.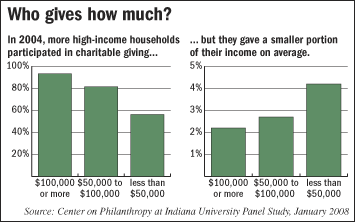 "This seemed like the right time to step up and do it, and stop thinking
about it," he said.
Digging deeper
The $25,000 required to become
a principal donor is less than the cost of most luxury cars. And it's almost a drop in the bucket for many public company
CEOs.
According to IBJ's latest survey, the average compensation for CEOs at Indiana's large-cap
public companies was $4.3 million last year.
Lilly executives led the pack. Chairman Emeritus Sidney Taurel received
$12.2 million, and Lechleiter collected $10.6 million.
With most other potential large donors, however, it's
unclear to United Way staff how deep they can dig. The organization is developing its list of prospects based on guesses about
income, Research Director Bob Cross said. Hints of future giving come from published reports about gifts to other charities.
Frank Basile, a retired Glick Co. executive and local arts patron, said most fund-raisers' expectations are
too low.
"They tend to go hat-in-hand," he said. "It's like they're asking the
donor to do them a favor."
Instead, they should pitch the cause as an investment opportunity, Basile said.
"They're buying something because they feel like it will give them some type of satisfaction."
Research by the Center on Philanthropy at IU suggests that not-for-profits could squeeze more out of high-income donors.
The latest results of the center's long-term panel study found that more than 93 percent of households
earning $100,000 or more gave to charity in 2004. (The study was released in January 2008; 2004 was the latest year for which
national data was available.)
The high-income households were far more likely to give than households earning
less than $50,000, but their giving also was less of a stretch.
The high earners gave an average 2.2 percent
of their income, compared with 4.2 percent given by the low-earners.
People start writing the biggest checks
when they become truly rich, said Patrick Rooney, the Center on Philanthropy's executive director.
In a
separate study focused only on wealthy Americans, the center found households with incomes greater than $200,000 or assets
of at least $1 million gave an average of 9 percent of their income to charity in 2007. The study counted donations from personal
assets, as well as family foundations.
When income hits $5 million, Rooney said, "Philanthropy not only
becomes more affordable, it becomes a passion. You start to see giving really start to take off, not only in dollars but as
a share of income."
The super-rich are but a sliver of wealthy households, however, and gifts over $20,000
are not the norm. In the Center on Philanthropy's study, the median level of overall giving was $13,000.
Rooney said that suggests the United Way's $25,000 principal donor designation will feel like a long leap, even to
the wealthy.
It's all in the pitch
Umbrella groups like United Way aren't
the first to benefit from even the most zealous wealthy donors.
Education nets the biggest donations. In the
Center on Philanthropy giving study, the average donation to education was $27,000, compared with $9,000 to umbrella groups.
J.A. Lacy, CEO of the local auto paint distributor FinishMaster, learned about the challenges of pitching United
Way during his recently completed term as chairman of the Tocqueville Society.
People want to give to a specific
and tangible project, Lacy said. In that regard, "It's easier to raise money for a capital gift than it is for
somebody like United Way."
Lacy, who also serves on UWCI's board, said many people still view the
organization's role as simply passing money to other agencies.
Lacy counters the argument with language
that appeals to businesspeople. He describes United Way as a "mutual fund" of health and human services. He tells
them, "United Way does the R&D to find out who is doing the relevant work, getting the right outcomes."•
Please enable JavaScript to view this content.