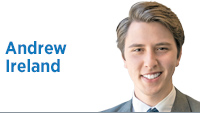 An email popped up in my university inbox. From the all-too-generic address iupresbn@iu.edu, I expected a commonplace "welcome back" or Title IX compliance notification. Two keystrokes out from the trash folder, I caught the subject line: "A statement from IU President Michael McRobbie on immigration executive order."

I have grown accustomed to being a political minority in the classroom—studying journalism and public affairs only furthers this reality. In many ways, this has benefited my education; but, as I enter my final semester, I am concerned by our academic leaders' foray into politics.

Taking aim at President Trump's temporary ban on immigration from select nations with a propensity for terror, Indiana University President Michael McRobbie announced "the executive order … is contrary to the very core of our values as an institution." Saving nuance, he added, "This is why we urge the administration to end this executive order."

Students and faculty alike shared the statement on social media with glowing admiration. Since the act was noble in their view, I have done my best to welcome the critique. However, as someone who supports Trump's efforts, the sweeping language about defying institutional values provides a cheap sense of homogeneity. More critical, this type of demonstration reeks of ethical and legal shortfalls.

As institutions of higher education nationwide disparage the new administration's work, many are overstepping their bounds. Universities serve society best as a body for education, committed to academic freedom and individual exploration. Administrators undermine this by making political statements on their behalf. More than reassuring students, blatantly political pieces like McRobbie's do more harm than good.

Every faculty member has a right to say his or her piece, and we must continue to honor this. Leaders in their field, they surely deserve a place at the table. When these academics use the weight and gravitas of their title, however, they go too far.

Tax dollars support the letterhead of public institutions like IU. Leaders' remaining apolitical in the face of even the most divisive issues best serves the mission of their university. If faculty members loathe a policy, they should feel compelled to teach. If professors find the new administration deplorable, they should fight it with wisdom. However, administrators must refrain from judgments of policy. In a space where student political activities are tightly regulated and administrators marginalize free speech to zones, it only seems just for administrators to be held to a similar bar.

Running deeper than partisanship, Purdue President and former Gov. Mitch Daniels, too, improperly criticized the order. "[The order] is a bad idea, poorly implemented, and I hope that he will promptly revoke and rethink it," he stated.

Simply said, when faculty and administrators use public funds and institutions to push a political narrative, they undermine thoughtful discourse. Academic exploration is paramount to education and progress; these letters can only undercut this. If universities continue this trend—one marked by improperly engaging on issues of importance—they stand to lose more than credibility.

When educators abuse their role for political purposes, academic freedom suffers. I have no doubt these leaders are sincere in and compelled by their convictions, but a line of professional conduct is being crossed.•

__________

Ireland is a college Republican at Indiana University. Send comments to ibjedit@ibj.com.