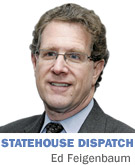 Technology has placed many government functions at our fingertips and the internet has changed how Hoosiers locate, access and purchase assorted goods and services.
This has meant a disruption of some traditional assumptions, and Hoosier lawmakers are being forced to come to terms with these changes.
Looking back a few years, it is hard to comprehend that Indiana was one of the early adopters of telecommunications deregulation. After all, the cable television business model created lots of millionaires among favored individuals who gained franchise approval from city governments, and Indiana failed to change its banking business model early enough to benefit from interstate banking trends. That cost the state a lot of dollars and homegrown banking operations.
We seem to be approaching another series of game-changers, and lawmakers seem largely devoid of institutional memory about how related changes evolved—or failed to do so, to our detriment. Legislators appear disinclined to treat the changes in a comprehensive or ordered manner, content to address them as a series of "one-off" issues.
When they do look back with perspective, lawmakers might afford substantial deference to historical treatment of such individual matters. They might keep a foot firmly planted in the status quo, even as technological reality and market forces threaten to leave us behind.
A few examples should suffice.
In the 2016 and 2017 sessions, some took aim at the automobile-dealer distribution model, targeting electric car manufacturer Tesla's direct-to-consumer path. The state had long barred manufacturers from competing with their own licensed franchise dealerships, with territories strictly regulated and protected by statute and case law. 
The battle between Tesla and those adhering to the traditional franchise model became heated. Both sides questioned the original justification for the law, whether it remained valid, and whether it was now protecting dealers or consumers (and whether dealer investments should be protected).
The fight between the state and online lodging middlemen has also been instructive. People clearly want the option to book hotels at lower prices through services such as Orbitz, but should those companies remit sales taxes at the retail rate paid by the consumer or at the lower rate negotiated with the hotelier?
Then there are even bigger disrupters, like Airbnb. When an individual rents out a home, room or apartment, should the individual register as a business and pay sales tax on the transaction? How about local innkeeper taxes? The individual is arguably competing against enterprises with large capital investments who pay all those taxes.
Then take a step even further back and question if an individual violates local business and zoning ordinances by offering such a service. Changes in societal attitudes on this issue alone might result in major adjustments to how we view neighborhoods and neighbors, and affect government revenue streams.
While we were told a decade ago we needed to change laws to accommodate Segways—presented as the future of transportation—that didn't pan out, but surely driverless cars will require significant changes in everything from traffic to insurance and liability laws, and alter assumptions on how non-drivers (especially children, the physically impaired and senior citizens) get around.
Of course, there was the change in course in education with charter schools and then vouchers, a disrupting force that continues, for better or worse.
This background might prove instructive when lawmakers, at the instigation of their leaders, review our seemingly sacred liquor laws, from the three-tier distribution system to Sunday sales. Or when policymakers decide to examine our overall legalized gambling rubric, realizing what made sense in the early 1990s might now be antiquated notions placing us at a disadvantage to surrounding states and preventing us from capturing millennials as baby boomers age out.
As these issues progress, solons would be advised to understand what brought us to this point and not necessarily remain wedded to a framework based upon who benefits, instead questioning where the world is headed and, accordingly, where we want Indiana to be in 20 to 30 years.•
__________
Feigenbaum publishes Indiana Legislative Insight. He can be reached at [email protected]
Please enable JavaScript to view this content.