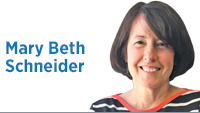 You can't be much more of a minority in this Congress than Andre Carson.
He's a Democrat—one of 193 in the 435-member House of Representatives.
He's African-American—one of 49 among the 535 members of the House and Senate.
And he's Muslim—one of only two in Congress.
On one hand, that makes Indianapolis' representative sought out for interviews on such things as President Trump's travel ban that has a profound impact on Muslims.
On the other hand, talking is about all Carson and Democrats in Congress can do, as Republicans control every level of federal government.
Carson, though, is remarkably upbeat for a man who can expect to be on the losing side of just about every big debate in Washington.
"I do [feel I can make a difference] in a very real sense," Carson said recently. "I guess the silver lining is, I sit on two committees that tend to be very bipartisan."
One is the Transportation Committee, which will play a role if Trump follows through on his campaign promise to improve the nation's infrastructure. The other is the House Intelligence Committee, of which he is the ranking Democrat on the "emerging threats" subcommittee that has oversight over the FBI and other intelligence agencies.
"For me, I think the silver lining is, these committees could act in a way that, one, holds the administration accountable but also protects the American people. And on the transportation side, we want to push through safety regulations for our pilots, for our truck drivers, but also spur economic development,"Carson said.
Maybe. Then again, Trump gave only passing reference to infrastructure in his speech before Congress, with no bill drafted.
Carson was at that speech, which he said reflected Trump's style so far: "Lots of talk but no real action to help Americans secure jobs."
So was there anything Carson enthusiastically applauded?
"I stood up when he condemned the recent attacks on synagogues. I stood up when he talked about getting rid of ISIS," Carson said. "And when he talked about putting Americans to work. Those are the universal strands I saw in his message. Otherwise, I remain pretty skeptical of his whole agenda. I think his policies have alienated our allies and emboldened our enemies."
He's looking for areas to say "yes." 
"But when he's talking about building a wall, alienating Latinos; not talking about equal pay for women; not speaking up on behalf of women on reproductive rights; demonizing Muslims, I'll be ever critical."
Carson said he's had to defend his Muslim faith "most of my life, to varying degrees."
Now it is more of a focus, due to Trump's words and policies. Yet, he said, he doesn't feel like part of an isolated minority. The women's march, which brought massive crowds to Washington and cities nationwide, showed there is "intersectionality" of groups—women, Jews, Muslims, Latinos—who have found unity that might not have existed before but were motivated by Trump's rhetoric.
"There's a cross-pollination of sorts that's taking place that has yielded great benefit on the ground," Carson said. "Even some of my Republican buddies, many of whom have expressed to me personally that they have some buyer's remorse [over Trump], are kind of looking at ways that they can engage democracy in different ways and not wed themselves as much to party politics."
He's hoping he'll make a difference by finding compromise with Republicans on issues like jobs and criminal-justice reform. But Carson also said he seems himself as part of The Resistance.
"Absolutely," he said. "I don't have a choice."•
Please enable JavaScript to view this content.