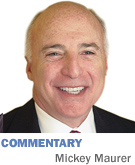 Each January, I reflect on the prior year's columns. I am always curious about the topics and people I have written about over the course of the year. I hope you are, too.

I know it's not January, but I have been taking a hiatus from this column in order to complete a book.

■ Last April, I wrote about a diabolical plan hatched by our right-wing-controlled Indiana Legislature to eviscerate Roe v. Wade by placing so many barriers and restrictions on this pro-choice activity that "when the hapless patient figures it all out the unplanned child will be distributing leaflets at anti-Planned Parenthood rallies."

I declared that the whole episode was just another pathetic waste of time and money due to the patent unconstitutionality of the legislation. The circus continues. The 2017 onslaught is HB 1128, which would require physicians to advise their clients about an abortion-reversal pill in support of which there is no accepted science. If enacted, the constitutionality of this law will surely be challenged—successfully. We should require the sponsors of these bills to reimburse Indiana for the cost of their frolics.

■ In May, I summed up the graduate degree commencement address I was honored to deliver at Indiana University. I issued a call to arms. I told the graduates that our democracy is messy, boisterous, inefficient and frustrating, but it is the best in the world and we need to care enough to perpetuate this wondrous form of government. One of the most important underpinnings of a democracy is a free press. One who wishes to destroy our democracy need only to begin by refusing access to journalists who disagree with those in power. President Trump has done just that by barring journalists from The New York Times and several other news organizations from attending his daily briefing. This action is unprecedented and dangerous.

■ My March column found me lamenting the death of a good friend, Don Davis. You remember Davis: "I don't want to make any money, folks; I just love to sell guns." When Indiana considered legislation legalizing the sale of guns at gun shows and allowing hardened felons to carry hand guns, Davis fought hard against it. He said, "I am full of baloney, I admit it, but I know what the general public wants and it wants more restrictive gun laws." He added, "The Legislature does not know what it's doing. Guns should not be as available as popcorn or a loaf of bread." According to that logic, the Legislature still doesn't know what it is doing—no action on this issue in 2017.

■ In February I disagreed with U.S. District Judge Tanya Walton Pratt on the sentence she imposed on Jared Fogle, which I thought was excessive. Under the terms of Fogle's plea agreement, the prosecution agreed not to ask for a sentence greater than 12 years and seven months in consideration of the defendant's and his counsel's accommodation not to ask for a sentence less than five years. That left a wide range for Judge Pratt to mete out fair justice. Pratt disregarded the plea agreement and sentenced Fogle to 15 years and eight months in prison. I felt that, although Pratt was within her authority, she was offensive to the process. She could have rejected the plea bargain and given defense counsel the right to withdraw the plea or negotiate a different sentencing range. Instead, her incomprehensible deviation from the reasonable suggested-sentencing parameters hashed out by two competent and experienced teams dealt a blow to the entire system of justice. I predicted that the sentence would be overturned on appeal. I was wrong.

Thank you for reading my columns last year and for responding. I have enjoyed our dialogue. Best of luck to all of us for a healthy and prosperous 2017.•

__________

Maurer is a shareholder in IBJ Corp., which owns Indianapolis Business Journal. His column appears every other week. To comment on this column, send e-mail to mmaurer@ibj.com.