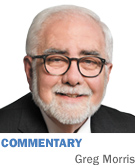 When I take sides on political issues, I typically find a way to aggravate 100 percent of the people about 50 percent of the time. That's a pretty good batting average, but it's why I try not to do it often. Let's give this a shot, anyway.

I've got a couple of bills on my radar as Indiana lawmakers bring this legislative session to a close in April. It's been relatively quiet at the Statehouse this go around and that suits me just fine. However, my "rabble rouser" colleague, Abdul-Hakim Shabazz, wrote a tongue-in-cheek column recently on IBJ's INForefront titled, "Hey Indiana lawmakers, thanks for nothing!!!" Abdul talks about the "good old days" of right-to-work and RFRA controversies and the accompanying fireworks.

We haven't had that much excitement—nothing like Democrats fleeing the state to hole up in Illinois hotels. But that doesn't mean it's been smooth sailing. A couple of bills have been difficult to negotiate.

• Indiana road funding. An AP report at IBJ.com on March 28 said the Senate Committee on Tax and Fiscal Policy had approved a modified infrastructure funding plan. Tax-raising provisions include a 10-cent gasoline tax increase and a diesel tax increase, a $15 vehicle registration fee, increased annual fees charged on commercial vehicles, and a new $5 fee charged on each new tire sold in the state, among other things.

The bill as it currently reads is said to bring in $670 million a year for road funding beginning in two years. That's still short of the $1 billion estimated annual spending needed to properly take care of our needs.

There are ways to make up the shortfall. Redirecting more of the existing sales tax charged at the pump, which is currently used to pay for other programs, is one way. It's not in the current bill, but it could reappear down the road.

Allowing tolls on interstates is another. I know this is a hot topic. Have you tried driving from here to Philadelphia lately? My last driving trip across Ohio and Pennsylvania cost about $45 in tolls, which included $7 in Ohio and $38 in Pennsylvania. I'm sure locals find alternate routes to save money whenever possible. But tolls seem like a good way to capture resident and non-resident money to help fund the roads they are using.

We need to bite the bullet and do what is necessary to properly maintain existing roads and bridges and build new needed infrastructure. Legislators seem to be doing a good job working through all the options and issues to come up with a viable plan.

Let's get 'er done and bring this legislation home before the end of the session.

• Appointing state school superintendent. This topic has been discussed at the Statehouse and written about ad nauseam. As I have stated on several occasions, I humbly submit that the state superintendent of public instruction should be appointed by the governor instead of elected by voters.

And, with a Republican superintendent now, I'm sticking to my opinion. So, for those who felt I was being partisan as I was singing this tune with Democrat Glenda Ritz in the office, you were wrong.

Sure, Ritz was the poster child for changing things up. But it's the smart thing to do no matter what party is in control of the governor's mansion. Everybody needs to be pulling in the same direction to move the needle on education. There's no time for endless debate on policy.

I don't know Jennifer McCormick, but I'm sure she will do a fine job in the position. I'm confident the voters have chosen wisely. However, if she is as good as everyone thinks, she could have been appointed to the position just as easily. The new bill in play doesn't make the change to an appointed "secretary of education" position until 2025. This would allow McCormick to run for a second term.

You can read more about the issue in a story by AP and IBJ reporter Hayleigh Colombo posted March 27 at ibj.com.

With the support of Gov. Eric Holcomb and House Speaker Brian Bosma, it's time to drag this issue over the finish line.

I'm sure some of you agree with one or both of my positions and some of you don't. Whatever your opinion, thanks for reading IBJ. And feel free to email your comments "for publication" or "off the record."•

__________

Morris is publisher of IBJ. His column appears every other week. To comment on this column, send email to gmorris@ibj.com.