This week, new fun from Gen Con and a nostalgic misfire from Gregory Hancock Dance Theatre.
A common misconception
about Gen Con, the downtown-dominating, four-day game fest that stormed our town Aug. 13-16, is that it's exclusively
for hard-core game geeks. In other words, those not carrying homemade broadswords and wearing monks' robes should stay
home.
But while these costumed gamers tend to capture the attention of the television cameras—and provide
lots of people-watching color for downtown workers and visitors—Gen Con isn't an exclusive club. In fact, if you
take any pleasure at all in board, card or other games, then Gen Con has something to offer.
This year, I spent
most of the weekend with my son trying out new games. I avoided those that had lengthy learning curves, skipped tournaments
with extra charges and dodged anything that seemed like it would take more than two hours. I still managed to find lots of
very recommendable games and had a great time doing it.
Last year, I raved about the "Ten Days in …"
series of geographic strategy games from Out of the Box games. One of the selling points—and, I think, one of the reasons
for the company's popularity—is that any of its products can be learned in just minutes.
The company
returned this year with another winner, Word on the Street, a game that is recommended for 12 to adult but can be easily played
with younger kids who either can spell well or have an adult on their team. My 8-year-old loved it. And now that we have it
at home, so do my teenagers.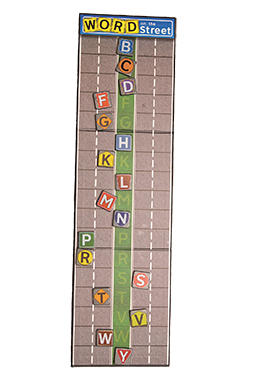 Word on the Street. (IBJ Photo/Robin Jerstad)
The board is a simple road with a series of letter tiles lined
up down the center line. On your team's turn, you draw a category card and have to quickly come up with a word that
fits. Then you move all of the letters in that word toward your side of the street before time runs out. The opposing team
then gets its own clue and tries to do the same. The goal is to get eight letters over to your curb, which gets tougher as
the letters run out. Adding to the fun of this lively and loud game: When the other team is playing, you are allowed to annoy
them with false, misleading or low-scoring words.
Another winner from Out of the Box—although with a more
kid-focused appeal—is Ninja Versus Ninja. The board is divided into two dojos and a neutral zone in between. You have
three turns to get into your opponent's dojo, score points, and get out. Cartoony, but fun, it spawned a follow-up,
Pirate Vs. Pirate. Visit www.otb-games.com for details.
While it's not a new series, I was pleased to
see Fluxx card games expanding their line. The basic Fluxx game is simple, but such sequels as Zombie Fluxx and Monty Python
Fluxx are sillier (and more fun). The gimmick behind the Fluxx games is that the goal—and even the rules—keep
changing. You start with three cards and the basic rules are that you draw a card and then play a card. That's it. But
the card you play might be a goal. Or it might be a new rule.
With the goal and rules always in, well, flux,
these games aren't particularly big on strategy. But where else will you find card games with such absurd goals as "This
is an Ex-Parrot" (you win if you have resting parrot and grim reaper cards) or "Zombie baseball team" (you
win if you get nine zombies and a baseball bat). Look for Martian Fluxx, due in September. More info on the entire line is
at www.wunderland.com.
Not to be confused with Fluxx, there was also Mindflex, the head-trippingest game at Gen Con
this year. From Mattel, it's operated—and I'm not kidding here—on brain waves. You strap on a headband,
attach clips to your ears, and, by concentrating, you activate an air blower. A manual dial allows you to move the blower
underneath an obstacle course. Your goal: concentrate a small airborne ball through an obstacle course.
Mindflex
may get old after a while (and at about $80, it's pretty pricy). But I couldn't help but feel like I was watching
the Pong of a new genre—a groundbreaking game that will soon be seen as the pioneer of a whole new way to play. It's
due out in October.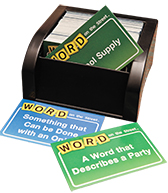 Playing cards for Word on the Street. (IBJ Photo/Robin Jerstad)
The demo copies set up in the
mainstay Rio Grande Games area were a little more challenging to learn—it was helpful to have staff
there to instruct—but my son and I were soon caught up in Alhambra, in which we were competing
to build a walled city. Easier to learn was Maori, a map-building game in which each player tries to construct
an island chain from available tiles. More info on both are at www.riograndegames.com.
The Mayfair Games area
was dominated by variations on its hugely popular Settlers of Catan series (don't be surprised if you hear about a movie
in the works soon). I tried my hand at Gangster, which looked intimidating but quickly pulled me in. After some initial confusion,
I was soon trying to control Chicago neighborhoods while taking opponents on unwanted rides in my car's trunk. (Don't
worry: While I was wielding my imaginary Tommy gun, my son was busy creating trade routes at the next table in a new game
called La Strada.)
Better yet was Pack and Stack, a spatial-relations game in which the role of die gives you
a supply of various-shaped boxes. Then a truck card shows you how much space you have to fit them in. Addictive and competitive,
I could have played this one for the better part of a day. You can find these and more at www.mayfairgames.com.
See,
we found two whole days of family-friendly Gen Con action with nary a troll, laser battle or magic spell. Not that I'm
knocking trolls, laser battles or magic spells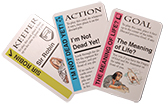 Monty Python's Fluxx. (IBJ Photo/Robin Jerstad)
… .
With
a first hour that felt like an attention-challenged child was controlling a 1970s radio dial and a second
half that careened off the walls of satire, drama and silliness without ever effectively sticking to
any, Gregory Hancock Dance Theatre's premiere production of "Romeo & Juliet at the Disco"
(Aug. 14-15 at Pike Performing Arts Center) took audiences back to the worst excesses of the shallow
era without insight or grace.
Blame, in large part, goes to Hancock's cramming of
the stage with far too many performers for far too long. In addition to his professional crew, an army of student
dancers, a flock of winged aren't-they-cute angels and a tribe of roller girls were overused. Most of the time, they
had little to do but hang out, distracting from the able pros. What could have been fun in moderation came across as sacrificing
quality for the sake of packing the house.
Equally problematic was the lack of thought into how Shakespeare could
meld with the mirror-balled world of disco. "West Side Story" works, in large part, because it finds a style,
a reason for being. The same could be said for the science-fictioning of Shakespeare in converting "The Tempest"
to "Forbidden Planet" or the teening of "Shrew" into "10 Things I Hate About You." Here,
though, the reasoning wasn't clear. And the tone was all over the place.
In Hancock's creation, the
titular couple wasn't even clearly identified until more than a half hour in, by which time I was numb from the relentless
fractionalized songs. Thirty seconds here. A minute there. Occasionally almost a full tune. Even as a listening experience
(I happen to like a lot of the music), it proved frustrating.
Too often, also, the songs brought
up memories of other work. Three ABBA songs made me want to be in the audience for "Mamma Mia!"
again. Even a disco-fied "Tonight" made me want to see "West Side Story." It's
very dangerous for a work to continually evoke superior shows.
Clarity might have mitigated some of
the problems. More power to anyone who could tell the difference between the Montagues and the Capulets. Or anyone who could
explain why Lola, Tony and Rico made awkward cameo appearances. Or why one character was hit over the head with a disco ball
and another flattened à la Wile E. Coyote. An awkward video sequence at the end, in which we were suddenly asked to
take these star-crossed lovers seriously, only made things more emotionally confused—and defused energy from the obligatory
ovation (a lot of parents were on hand).
Leads Martin Casanova and Heather Helene King made a valiant effort
to hold the audience's attention through remarkable athleticism, but there's only so much they could do, considering
the dance genre. Even the iconic movie "Saturday Night Fever" took breaks from the dance scenes for some story.
Why? Because, by all evidence, disco moves aren't all that interesting to watch for more than a few minutes at a time.•
__________
Visit ibj.com/arts for additional reviews, previews and arts discussion. Twitter: IBJarts
Please enable JavaScript to view this content.