Despite strong passenger growth, Indianapolis International Airport's cargo business hasn't exactly been flying high of late—but airport officials and industry observers say there might be reasons for optimism ahead.

The weight of inbound and outbound cargo shipments at the Indianapolis airport totaled 1.1 million tons last year, down 1.8 percent from 2015. That's on top of a 1.6 percent decline the year before.

And the airport's dominant air-freight operator, Federal Express Corp., has been through some turbulence of its own—including a cost-cutting plan announced in 2013 that reduced FedEx's payroll while the company modernized its fleet.

But now, Memphis, Tennessee-based FedEx is undertaking a $170 million upgrade of its Indianapolis hub and is projecting increased revenue and earnings for 2017. It plans to hire more than 200 new workers here, although most will be part-time.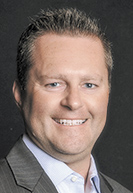 Wensveen
Observers, meanwhile, say the air cargo industry appears poised for growth.

The U.S. air cargo market has been "fairly stagnant," but that is expected to change with the rise in world trade, said John Wensveen, a professor at Purdue University's School of Aviation and Transportation Technology.

"If you were to look into the crystal ball and say, 'OK, what does the next 10 or 15 years look like?' It's promising," Wensveen said.

Aircraft maker Airbus reached a similar conclusion in "Mapping Demand," its global aviation forecast for 2016-2035. The air cargo industry should see 4 percent annual growth, with particular opportunities in e-commerce and express carriers, Airbus said.

That's important for Indianapolis International because—with no passenger hub—cargo-carrying planes represent a significant portion of landing fees, which are determined by the manufactured weight of aircraft. In 2016, freight aircraft represented more than half of the airport's 5.2 million tons of landing weight.
Indianapolis is the eighth-busiest cargo airport in the United States and the 24th-busiest in the world, based on the weight of cargo and mail it processes, according to the Airports Council International.

FedEx represents almost all of Indianapolis' air freight—last year, 98 percent.

The shipper has had a hub here since 1988, when it took over a former Purolator Courier facility. Its Indianapolis facility is one of only two national FedEx Express hubs and is the company's second-largest hub altogether, behind its Memphis operation.

The Indianapolis hub occupies 1.3 million square feet on 313 acres. Some 728 full-time and about 3,200 part-time employees work at the facility, which FedEx leases from the Indianapolis Airport Authority. The hub can sort 214,000 parcels and documents per hour—and that capacity should grow by 2020, thanks to new equipment anticipated as part of the $170 million upgrade, announced last year. FedEx said it plans to add up to 27 full-time and 178 part-time employees.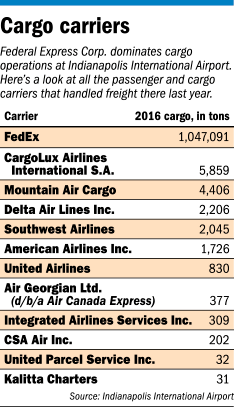 Including this latest project, the company said, it has invested more than $600 million in growing the Indianapolis facility in its nearly 30 years here.

FedEx planes fly out of Indianapolis to both domestic and international destinations, according to information from the FlightAware flight tracking website.

On a recent Friday, FedEx had 101 scheduled Indianapolis flights, FlightAware indicated—to and from places like Anchorage, Alaska; Memphis; Paris; London; Los Angeles; Boston; Denver; and Toronto.

About 12 percent of the airport's 2015 revenue came from FedEx, through lease payments and landing fees.

Indianapolis' second-largest freight carrier, Luxembourg-based CargoLux Airlines International S.A., carried nearly 5,900 tons of cargo last year, representing 0.6 percent of airport freight operations.

CargoLux came to Indianapolis in 2005, shipping pharmaceuticals in its temperature-controlled aircraft. The shipper leases 20,000 square feet at the airport.

The airport's five dedicated cargo facilities include 40,000 square feet of temperature-controlled space for customers shipping perishable or sensitive items.

Eric Anderson, Indianapolis Airport Authority director of properties, said the airport also works with state economic development officials and Conexus Indiana on supply-chain logistics issues. The goal, Anderson said, is to ship more Indiana cargo out of Indianapolis, rather than Chicago O'Hare or some other large cargo airport.

"In short, we're looking to grow partnerships with entities and third-party logistics companies that face existing and emerging supply-chain needs" in advanced manufacturing, temperature-sensitive logistics like pharmaceuticals, and online retail, Anderson said in an e-mail.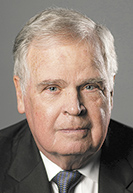 Muscatello
Passenger airplanes also carry some freight in their bellies, and the practice is growing.

The belly-cargo shipping trend, which began several years ago, is "a major impact that we see on how cargo moves," said Daniel Muscatello, associate vice president of cargo and logistics at Landrum & Brown in Floyds Knobs.

The Airbus industry report concurs. In 2015, the report said, about 52 percent of air cargo traveled in the belly of passenger aircraft as opposed to dedicated air cargo planes. By 2035, Airbus predicted, belly cargo will make up 62 percent of air shipments.

"It's a real interesting part of the airline industry that most people don't understand or know about," said Dan Landson, a Southwest Airlines spokesman.

Southwest carries at least some cargo on nearly all its flights, Landson said.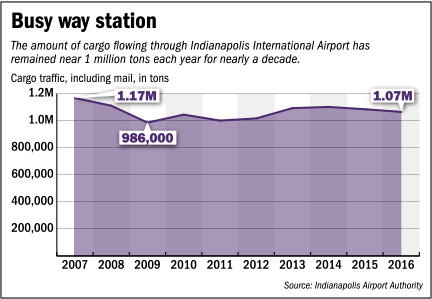 Last year, Southwest carried more than 2,000 tons of cargo into and out of Indianapolis. The most common freight was educational materials and live tropical fish, Landson said.

Southwest's cargo capabilities are not as extensive as dedicated cargo carriers, Landson said, but the carrier can offer direct point-to-point deliveries, important for time-sensitive shipments. Southwest has carried everything from fresh seafood and flowers to human organs for transplant, he said.

Air Canada, American Airlines, Delta Air Lines and United Airlines all also reported carrying cargo through Indianapolis last year, according to an airport traffic report.

Indianapolis sees belly cargo as an opportunity area.

"As our passenger route structure grows, we anticipate seeing that incremental cargo growth as well," Anderson said.

As an example, he said, Alaska Airlines' Indianapolis-to-Seattle service, which begins in May, will provide "opportunity for another option to carry cargo to the West Coast."

Trans-Atlantic flights would also offer Indianapolis "an extremely valuable cargo route," Anderson said. The airport currently has no direct trans-Atlantic service, but one of its goals is to secure direct flights to London.•