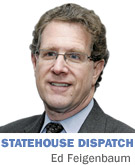 Regulatory agencies are under fire at the federal and state levels—for decidedly different reasons.
At the federal level, executive branch agencies are being slammed by the president and congressional majority for over-aggressiveness in implementing policy absent specific legislative direction.
In Indiana, one agency has attracted ire from legislative leadership for flouting long-held legislative dogma surrounding one particular law but has been defended by the governor for following the letter of that law.
Truth redounds in the seemingly contradictory tenets of each of the actors.
President Donald Trump, a Republican, is "keeping a promise to the American people to roll back regulatory overreach," his new Environmental Protection Agency administrator told Fox News this month. Clean air and clear water will remain EPA's focus, but, "We're just going to do it right within the consistency of the framework that Congress has passed."
But that framework's extent has been nebulous. Congress enacts laws that the executive branch implements and enforces. But Congress isn't composed of 435 scientists and engineers who can sweat the details. It passes laws setting general standards that agency experts shape into painfully specific regulations.
How far agencies can go—and the degree of deference they should be afforded—is both a political and judicial question. Agencies can be redirected by specific congressional mandates or disciplined by budget cuts or reeled in by the courts.
No one in the regulatory-discretion debate is pleased with extremes taken by their opposites, but a happy philosophical medium is elusive. With Congress reluctant to spell out details in laws (but quick now to overturn agency interpretations) and the president bent on limiting regulatory actions, the overarching debate continues.
The state-level situation is different. 
Legislative discontent with Indiana agency actions and interpretations has largely been a non-issue. Public spats have been minimal, seemingly waged over relatively trivial issues (Should hair braiders be licensed cosmetologists?).
Enter gas and convenience store owner Jay Ricker. He sought change from grimy gas stations stocking limited selections of beef jerky, chips and air fresheners next to kegs of iced sodas and energy drinks. His model: well-lit, open-floor-plan stores with a large inventory of products, fresh food and flavored coffee selections. 
Ricker tested a sit-down restaurant concept with burrito bars in upscale areas. His clientele expanded beyond those in the proverbial white service trucks. He then sought to sell cold beer in those "restaurants." Following the letter of the law, local alcohol boards agreed, and the Alcohol and Tobacco Commission granted permits.
That incurred the wrath of package store owners, whose long-standing cold beer sales monopoly was part of a historically respected legislative alcohol distribution and sales policy. Legislative leaders took exception to ATC action.
The problem: Commissioners followed the law. Ricker ensured his "restaurants" were legally qualified.
Indeed, the Pence administration—hinky about making alcohol policy after Daniels administration attempts to administratively intervene ended in court—expressly sought judges to fill the commission's top two slots. They wanted commissioners to simply execute the law, not make policy.
House Speaker Brian Bosma later complained commissioners "ignored long-standing policy" of lawmakers.
"I think it is a misinterpretation of the law by the ATC," said Senate President Pro Tem David Long. "I don't criticize anyone for trying to be creative. I criticize the people running the ATC for granting these licenses."
"The state of Indiana has followed the law," Republican Gov. Eric Holcomb responded.
"An administrative, bureaucratic body has circumvented legislative will," Bosma said. "It's not about the policy. It's about who sets the policy." 
Bosma is correct. As is Holcomb—and Trump. But until legislative bodies provide specific direction, agencies won't always mollify policymakers, and the divide and debate will drive us to drink.•
__________
Feigenbaum publishes Indiana Legislative Insight. He can be reached at edf@ingrouponline.com.
Please enable JavaScript to view this content.