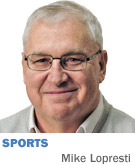 This is not just a baseball story. This is about the long road traveled. Take that big right-hander out there on the mound, pitching for the Indianapolis Indians. Wait till you hear why he's here.

And she's up on the Victory Field concourse. Blue eyes, dark blonde hair, happy, smiling. Her name is Monroe, and April 20 is her birthday. She'll be 6 months old.

Josh Lindblom's baby daughter is doing great—we need to start with that right up front. The little girl with the congenital heart defect, who spent the seventh day of her life in heart surgery and the first month in the hospital, who must return to the cardiologist every three weeks or so, and who has another heart operation to face. Maybe two.

But today, she's doing great. Today is what matters to Josh and Aurielle Lindblom. Life has taught them all about the importance of today.

"We ascribe significance to specific moments in our lives: weddings, births, birthdays," Josh had said the day before, standing outside the Indians' clubhouse. "But when you have a child that has a life-threatening disease, every moment is significant. The most important is the one right now.

"You try to live that way. It's hard to live that way, but whenever we see her, that's a constant reminder."

On this Monday night, they are all together in Victory Field, father working on the mound, allowing the Columbus Clippers three hits and no runs in five efficient innings. Mother and kids in the stands. Why is this happening in Victory Field, of all places, with the Indians, of all teams? Because Riley Hospital for Children is 14 blocks away.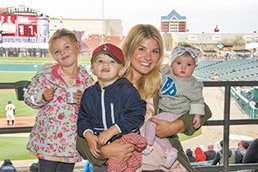 From left, Presley, Palmer, Aurielle and baby Monroe Lindblom came to Victory Field April 11 to watch Josh's first game as an Indians starting pitcher. (IBJ photos/Daniel Axler)
But where are my manners? You haven't been introduced.

Josh and Aurielle Lindblom are Lafayette natives, who lived a mile apart and started dating in high school. Josh grew up going to the batting cage at the nearby miniature golf range with his dad, and throwing rolled-up socks into the family couch. The love of baseball led him to Purdue, and eventually to the draft, then to a pitching career traveling hither and yon. There would be 110 games in the major leagues for four organizations, from Dodger Stadium to Philadelphia's Citizens Bank Park: long enough to strike out 121 big-league batters.

But there was also a lot of bouncing up and down, from the bigs to the minors, from city to city, and with a wife and two young children, he decided he wanted some stability. That led to two seasons pitching in Korea, an experience he loved, right down to learning basics of the language so he could greet fans. How many people do you know who can say they've tweeted in Korean?

"First thing I did was memorize the alphabet, like the first week I was there," he said. "I started reading everyone's name on the back of their jerseys. Just picked up important phrases. It's a little dusty now."

The Lotte Giants were his team, and he won 23 games in 2015 and 2016. Aurielle was there with him, with son, Palmer, and daughter, Presley. A third child was on the way. A girl. Life was good.

Then came last July 1. That's the day they met with their doctor in Korea. He had seen the last scan of the baby and something was not right with the heart. Later came the diagnosis from Korea's top pediatric cardiologist: hypoplastic right heart syndrome, meaning that side of the heart had not developed.

"It puts a lot of things in perspective—something that I hope and pray nobody has to experience," Josh said. "It really kind of flips your world upside down. Baseball becomes secondary at that point."

Aurielle and the kids came home, and Josh stayed the rest of the season, getting back just in time for the Oct. 20 birth at Methodist. Within two hours, Monroe was on her way to Riley. A week later, she was in surgery.

The mother remembers that long day: "It was 7 a.m. We prayed over her with the doctors. I just had this feeling she was going to be OK and come back to us. Definitely one of the hardest days I've ever been through in my entire life."

The father, too: "Nothing really hit us until after the surgery, when you go in her room the first time and you see her, and it's not the baby they took back eight hours earlier. It's really a helpless feeling. You want to help your daughter; you want to do everything you can, but you can't."

The surgery went well, but there would be more challenges ahead. And what about baseball? Lindblom, at 29, was set to go back to Korea, but the very day he agreed to terms, the Pirates emailed his agent, wondering if he would be interested in returning to the organization as a minor-league pitcher.

"We had prayed the door would open up here," he said. "We talked about it. Prayed about it. Decided it was best for our family that I stay here."

He would have told any other organization no. But this meant he would be pitching in Victory Field, and Riley was just up the street. And what if the Pirates called for him one day? Pittsburgh is a lot closer than Korea.

But for now, it's a Monday in Indianapolis and his first start, with 40 family members in the park, posing on the concourse for a group shot. In the middle, Monroe, white ribbon in her hair. "This," Aurielle said, "is a dream come true for us."

The day before, her husband had described what it was like coming back to downtown Indianapolis to play baseball, not to sit through an operation to save his baby's life.

"The first day I drove up to the field, I texted my wife, because the only time I had come up [Interstate] 65 and gotten off on West Street was to come to the hospital. It's weird how our minds relate certain experiences with certain emotions. I'm pulling up the first day, I get this kind of sick-to-my stomach feeling. I texted her and asked, 'When you come back here, do you get a weird feeling?' She said, 'Every time I exit.'"

So a little girl's fight has led them to Victory Field. The game means something different now. How could it not?

Aurielle: "If you asked me before, I knew every transaction that was happening, from the big leagues to the minor leagues. Right now, I couldn't even tell you who they're playing. It's about keeping her healthy, and doing what we have to do."

Josh: "Good, bad, indifferent outing, it's just a game. Yes, it is how I make my living. But worst-case scenario, tomorrow they send me home and I'm at home with my family. To know I'm Dad, that I'm here doing what I'm supposed to do—caring for my family, shepherding my family—that's what's important to me. I just happen to get to play baseball and that's a really, really cool thing."

There are many layers to Josh Lindblom. He talks of how this ordeal first tested his faith, then deepened it. He makes no important move without first praying on it, and he's working toward an advanced seminary degree, with the ministry in his future.

The pitcher, the divinity student, the father.

"There's so many journeys that I'm on right now," he said.

There will be challenging days to come with the little girl up on the concourse.

"Eventually, later on in life, she'll probably need a heart transplant, just because you have half a heart doing the work of a whole heart," Josh said. "You don't know what any day is going to bring. Some days are better than others. Just something as small as the sniffles could put her in the hospital for a month or two."

But on this Monday, it's just good to be at the game, Josh's first as an Indians starting pitcher. Maybe there will be a time when the parents can tell Monroe about it.

"You hope there comes a day when you can say, 'Look what happened to you, and what your story is,'" Aurielle said. "She'll never be fixed. She'll never be a hundred percent. She'll always have a Band-Aid on her heart."

The mother goes on, as a pair of eyes twinkle up at her. "You can't look at her and not fall in love with her. We've come really far."

Meanwhile, Josh Lindblom is striking out seven Clippers. The road has led here.•

__________

Lopresti is a lifelong resident of Richmond and a graduate of Ball State University. He was a columnist for USA Today and Gannett newspapers for 31 years; he covered 34 Final Fours, 30 Super Bowls, 32 World Series and 16 Olympics. His column appears weekly. He can be reached at mjl5853@aol.com.