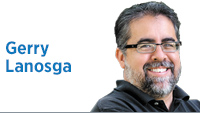 Gov. Eric Holcomb deserves applause for his swift veto of House Bill 1523, the legislation that would have allowed public agencies to charge a search fee for public records requests. He joined his predecessor, former Gov. Mike Pence, in refusing to give public agencies another tool to obstruct public oversight. In his letter to House Speaker Brian Bosma, Holcomb wrote: "Providing access to public records is a key part of the work public servants perform and is important from a government transparency standpoint. I do not support policies that create burdensome obstacles to the public gaining access to public documents."

As a longtime advocate on public access issues, I commend the governor for his action and strong stance on open government. Now, as we pause to inter the search fee effort—hopefully for the last time—it is worth addressing a couple other points in Holcomb's statement.

First, he noted that he supports the provision in HB 1523 that would have required agencies to provide electronic records in electronic format if requested. I am glad to hear of his position on that, but it's important to note that the Access to Public Records Act already requires electronic disclosure.

Under the law, requesters are allowed to get copies of records. If the record in question is an electronic mail file, for example, a copy is not a printout, but rather an electronic file. If it's an Excel spreadsheet, a copy is an .xls file, not a printout. And you don't have to take my word on this. My reading of the law comports with that of Indiana's public access counselor, Luke Britt. In short, agencies must be pushed to comply with existing law in this regard.

Second, Holcomb noted the intent behind the law was to "offset the considerable time and expense often devoted to fulfilling public records requests." There's no doubt that filling records requests consumes some staff time, but agencies have created and compiled records using tax dollars in the course of doing public business. And according to the access law, providing public access to those records is an integral part of the duties of those agencies.

That is, responding to public records requests is a routine function of public agencies, so the staffing required to comply with the law should be properly thought of as a regular part of agency budgets. Put another way, taxpayers have already paid for the compilation and disclosure of public records.

Two other important points about costs. One, agencies are already allowed to charge actual copying costs of records requests. And two, although backers of HB 1523 claimed that records requests are consuming vast amounts of public resources, they didn't provide any evidence of those claims. The Legislature's own fiscal impact statement made note of this: "There are no data relating to public records searches or search times. The amount of fees that may be collected under the bill is indeterminable."

Finally, Holcomb's letter to Bosma suggested there are ways to improve the process of fulfilling records requests and said he has asked his staff "to examine the best ways to provide public transparency and access to public records at the highest possible value to taxpayers."

I welcome any such effort to rethink these issues. For starters, we need to instill in government a stronger culture of ongoing proactive disclosure that will eliminate the need for many public records requests. I hope Gov. Holcomb is sincere about this, and I know plenty of access advocates—attorneys, academics, and regular citizens—who stand ready to join the conversation.•

__________

Lanosga is an assistant professor of journalism at Indiana University and president of the Indiana Coalition for Open Government. Send comments to ibjedit@ibj.com.