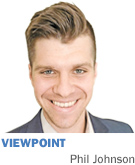 Another legislative session gaveled out at the Statehouse last month. Just as it has for the last handful of years, a "key" issue gobbled up lawmakers' time. Committee meetings were held, witnesses testified, and the pros and cons were weighed. In all, hours of legislators' time and taxpayer-funded resources were exhausted to see this issue considered.
No, it wasn't debate over paid family leave or policy to address the surge in student loan debt. The critical issue tying the Statehouse in a Gordian knot? Cursive writing.
It's a telling example of why Hoosier millennials take one glance at the latest from the Statehouse and think: Why bother? The Indiana General Assembly's work product is a result of policy priorities that wouldn't be out of place on the set of "Happy Days." It's driving a disconnect between millennials and the public-policy process in Indiana. It doesn't have to be this way.
At most organizations, employees are a mix of entry-level, mid- and late-career professionals. In the Indiana House of Representatives, the median age is just a nose under 60. Seniority is also a key consideration for committee chairmanships, the gatekeepers of which issues are considered. So both the rank-and-file and decision-makers in the Legislature skew older.
Now, consider how fundamentally different the 21st century economy and workplace look compared to when older lawmakers were leaving college, beginning their careers and starting families. First, the number of two-income households has risen drastically. According to the Pew Center, the number of two-income households climbed from 25 percent in 1960 to more than 60 percent by 2012. Student loan debt has also exploded. The average class of 2016 graduate left school with $37,000 in debt.
The issues that matter to millennials closely mirror these realities. Recent polling from Ipsos Public Affairs had the 18-34 demographic pegging "the economy/minimum wage/paid leave" and "education/college affordability/student debt" as the first and second most important issues to tackle. These are the new kitchen-table priorities.
And yet, very little impactful policy—like driving down the cost of child care, taking the lead on paid family leave, or methods to ease student loan debt—has been considered, let alone signed into law, by Statehouse leaders. The recently announced Future Caucus is progress, but more is needed. How can millennials fix this disconnect? By showing up and creating upward pressure.
The Indiana General Assembly is a part-time, citizen legislature. That means lawmakers are in the communities that elected them more often than they are not. By showing up to town hall meetings, introducing yourself and having a constructive conversation with your legislator, you're shaping his or her perspective on issues and opening the door to future input. Better yet, assemble a group of like-minded peers on an issue and have that same town hall conversation.
The second fix is creating upward pressure. By running for school boards, township advisory boards or other local elected offices, millennials can gain a foothold and the firsthand public-policy experience needed to run for higher office. More millennials running could help make state government more diverse, something long overdue at the Statehouse (only 19 percent of lawmakers are women, while African-Americans and Latinos are both underrepresented, a topic worthy of its own column).
The answer to addressing the gap between the Legislature and Hoosier millennials is for millennials to fill it themselves. By engaging lawmakers or becoming one, millennials can shape and influence the policy decisions ultimately guiding our state. Let's hope they start with beer on Sundays.•
__________
Phil Johnson is a communications consultant, a millennial and a former Statehouse staffer.
Please enable JavaScript to view this content.