One of the most highly visible parcels on the north side has finally sold after languishing on the market for more than five years—hamstrung by access concerns.
An entity named Wood Realty Inc. has acquired the 12.5-acre property at the northeast corner of Interstate 465 and Keystone Avenue, paying more than $3 million, according to real estate broker Michael Sloan. He represented the seller, The John P. Tyner Revocable Trust.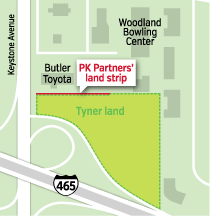 Wood Realty is registered to Christopher T. Wood, according to the office of the Indiana Secretary of State. He operates TruWorth Auto at 3006 E. 96th St., just west of Keystone Avenue.
Wood, brother to Tom Wood Automotive Group President Jeff Wood, didn't return a phone call seeking comment. Roger Keller, chief operating officer for Tom Wood Automotive Group, said the purchase of the property is a "family investment unrelated to the automotive side of the company."
Despite its high visibility and proximity to I-465, the tract had sat on the market since 2011.
"I was really excited about it when I listed it," said Sloan, who was at The Broadbent Co. then but since has founded Meridian Group Realty. "I listed this property on a Friday and thought I would have it sold on Monday."
What ultimately tempered interest in the site was the lack of access to it, Sloan said, brought about by a narrow strip of land that borders the property.
It's controlled by a different owner than the larger site and essentially serves as a buffer. Anyone wanting to buy the 12.5-acre property would need to purchase the narrow strip to gain access—a highly unusual hang-up for any attempt at development.
The roughly 4-foot-by-800-foot sliver south of Butler Toyota is owned by local developer PK Partners. The narrow property is what's known in the real estate industry as a "spite strip," because of the desire to annoy someone by stopping access to another person's property.
It's unclear whether Wood intends to develop the property or if he might seek to buy the strip from PK Partners.
PK Partners has controlled its strip for decades and likely established it to protect its interests in the area, real estate experts told IBJ in 2015, when it first reported on the Tyner property.
The predecessor of PK Partners developed the Butler Toyota property and the building to the north that formerly housed Ruth's Chris Steak House. Coast to Coast Imports demolished the building and constructed an 18,500-square-foot structure to house the dealership.
Without ownership of the strip, access to the 12.5-acre parcel still can be gained, from East 96th Street to North Aronson Road and through Butler Toyota. But the path may be too inconvenient to attract a hotel, for instance, said Ross Reller, director of land services at Resource Commercial Real Estate.
"Whatever goes in there will rely upon a customer figuring out how to get in," he said. "If it's a destination-type business like a car dealer, it's probably not a big deal. If it's more of an impulsive retailer like a hotel, people may give up before they get there and go someplace else."
Hotels, indeed, have coveted the parcel for years, Reller said, without being able to pull the trigger.
Sloan said through the years he had interest from hospitality, office and automotive users, but no one wanted to purchase the entire 12.5-acre site.
"I've always scratched my head as to why the car dealers didn't have an appetite for this parcel," he said. "It's got great visibility, and it's the only parcel left in that market."
John Tyner died in 2012 at age 82. His family has had large land-holdings in the area for generations, including more than 19 acres only a few blocks east, at the northwest corner of East 96th Street and Randall Drive, that was acquired in late 2012 by an affiliate of Butler Automotive Group. It built a two-story, 37,500-square-foot Hyundai dealership there.
Please enable JavaScript to view this content.