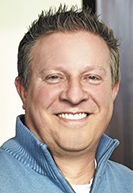 Martens
IBJ asked Rob Martens, futurist and vice president of strategy & partnerships for Allegion, maker of Schlage locks, to tell us how security technology will change our lives moving forward. His answers are as much about information and data as they are about physical barriers. Here are five of his predictions:
1. More mega-tech platform activity
Mega-techs (household names like Amazon, Apple, Google and Samsung) are creating platforms to unite connected devices manufactured by well-known consumer and commercial brands, like Schlage, Honeywell, Lutron and Chamberlain. The presence of these highly visible companies is driving a heightened level of interest in connected technology and is making these historically siloed devices more accessible and simpler to use than ever before.
2. Big data and differential privacy
Sensors, and the connected devices they are embedded in, are collecting a staggering amount of data—especially when used in security-oriented applications that need real-time information to be effective. Technology improvements are allowing this data to be aggregated, cleaned and analyzed faster and at a lower cost than ever before. Businesses get clearer ideas of the wants, needs and expectations of their user community, while consumers get more tailored and personalized experiences. And, with more people concerned about their data being sold, solutions like differential privacy tools will allow crowdsourcing data to create better experiences while keeping individual user-data private.
3. Chatbots, voice assistants and artificial intelligence
Chatbots and voice assistants are simple systems users can interact with via text or voice; they offer an alternative to downloading yet another app to access information or get something done. Voice assistants are increasingly popular, as they attract users that might not be as comfortable using their smartphones or might simply find the interface faster and more intuitive. This technology is about making the connected world—including smart locks—more accessible for everyone.
4. Enhanced design
Enhanced design is the idea of incorporating new technology into the aesthetic and functional design of a project at the conception stage, ultimately creating opportunities to make homes or buildings safer, more efficient and more convenient. What limitations could we remove or what costs could we save if the capabilities of the embedded technology in a building were considered from the beginning of the design process? From the ability to lever preferred materials aesthetically, to identifying productivity and cost savings, the benefits of enhanced design are becoming very apparent.
5. Augmented and virtual reality
The practical applications for these technologies are becoming clearer each year, ranging from the ability to design and walk through a secure facility before it is ever built, to allowing devices to call for help or service in ways that don't disturb the people working around them. Augmented reality can be delivered through the smartphone simply and cost effectively, allowing the users to interact with the environment around them on their terms with no special equipment. Virtual reality has the potential to change the way some of us work, as the definition of a remote office evolves and virtual dashboards can help us manage our workday.•
Please enable JavaScript to view this content.