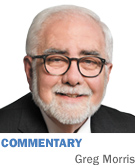 I hate that we're losing another long-established business, but the fact that Marsh Supermarkets lasted this long is a miracle in my book.

I'm going to leave it to others to do a deep dive into the business problems Marsh experienced, and I know there were many. I want to address the issues more simply, as a consumer. From that vantage point, Sun Capital Partners was a poor grocery store operator.

I don't enjoy piling on now that Marsh's sad fate is all but sealed. But I'm concerned for the thousands of employees and their uncertain futures.

Marsh couldn't survive in the highly competitive grocery space because it was never fully in the game. Consumers have too many good options today. Decades of providing quality products with great customer service at reasonable prices can fade away quickly when you lose touch with your customers. And that's what happened to Marsh Supermarkets.

Former Chairman Don Marsh received a fair amount of criticism over the years, some of it deserved, for various behind-the-scenes matters, but I submit that Don and his team provided a good grocery shopping experience for the consumer. And the business was always deeply vested in the community during the Don Marsh years.

My first job was stocking shelves and carrying out groceries for what I thought was the best grocery company anywhere—O'Malia's Food Markets. Until my wife retired last year, I was the main grocery shopper for the family. I shopped when our three sons lived at home—a time when our buying habits were much different than they are today. So, right or wrong, I consider myself an authoritative and educated grocery consumer.

Here's what I found on a regular basis at the Sun Capital version of Marsh Supermarkets in recent years. Forget inadequate staffing, frequently closed full-service check-out registers, lack of bagging help, and generally poor customer service—unfortunately, you'll find those conditions at many retailers. My main complaint lies with expiration and "best by" dates.

At Marsh, I had to look at the date on every item to make sure we weren't right on top of the expiration or even past it. Specialty breads and bakery goods could be stale shortly after you bought them, regardless of the date on the package. I maintain that's because they froze everything possible; freshness never lasts when you pull baked goods out of the freezer to thaw. It wasn't unusual to look at the fresh sausage case and see items in various stages of turning from a fresh-looking pink to fully brown. Yuck!

A close second on my list of complaints was the Marsh obsession with its generic Food Club brand. In fact, I thought the store should have been renamed Food Club. It's great to have that option for those who want to save money, but not all shoppers want the generic brand rammed down their throats at every turn.

Marsh played games in recent years with Food Club items. For example, if you wanted to buy Minute Maid or Welch's juices in six packs of small individual bottles, you could do that in every flavor except apple. If you wanted apple juice, probably the most popular variety, you were forced to buy the Food Club brand. Same thing with Nestle cookie dough in the dairy case—you could buy every cookie flavor in the Nestle line except chocolate chip. For that, you had to buy Food Club. It happened with other products, too. Not every week, and I concede the Food Club brands were all decent alternatives. However—and this is the important point here—it's not what I wanted. When you do that to me, I shop at other stores. Then, I find out I like the other stores better and I don't come back.

You might be thinking I'm darn particular about buying groceries. Well, I guess I am. But, it's my choice where to spend money on food, and at least 10 great options are within a mile or two of my house. Obviously, I'm not the only one who left Marsh for a better option.

No doubt, the grocery business is not for the faint of heart. My best wishes go out to all the hard-working Marsh/O'Malia's employees trying to earn an honest living. My hope is you'll land on your feet and that brighter days are ahead.•

__________

Morris is publisher of IBJ. His column appears every other week. To comment on this column, send email to gmorris@ibj.com.