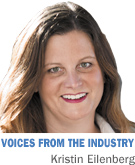 The race is on for dominance in the artificial intelligence industry. Driven by deep-learning technology that allows AI systems to teach themselves, the overall industry is projected to be worth $16 billion by 2022. The health care AI market is projected to grow from $667 million in 2016 to nearly $8 billion by 2022. Jostling for position is expected to be fast and furious over the next five years.
The current big players (Intel, Microsoft, Google, Facebook, Canada, the United Kingdom) and up-and-comer (China) were all at the AI Summit in London last month. Google, already a heavyweight in AI, announced a new AI chip and the forthcoming launch of "AI in the Cloud" at its recent Google IO developer conference. The cloud service will be accessible to researchers and developers to build and operate software via the internet. No word yet on the price for AI as a service. But speculation is that, if the cost is low enough, customers will come.
Industries that do high volumes of human interactions, such as banking and health care, are expected to begin adopting AI to automate customer service. The anticipated shift will result in job losses in customer service but increases in customer satisfaction. As chatbot technology that simulates conversations with humans improves, additional health care applications, such as AI doctors, are expected. Babylon Health recently raised nearly $60 million for a smartphone chatbot that diagnoses illness.
AI is expected to disrupt health care beyond chatbots. The exact form of the disruption is not yet clear. On the floor of the AI summit in London, bold visions were in abundance.
Philips, a partner in pilot projects being carried out by England's National Health Service, envisions wearables, including smart watches and other technology, working in concert with AI to provide 24/7 monitoring.
IBM Watson foresees "cognitive assistants" to augment physician expertise and ultimately the ability to diagnose and treat diseases well before symptoms arise.
IBM researchers estimate that 90 percent of health care data is in the form of images. Because deep learning does best with lots and lots and lots of data, AI initially is likely to cause the most profound disruption in imaging.
Medical startups and research centers are beginning to automate the analysis of MRIs, CT scans and X-rays. Google is using artificial intelligence with the NHS to spot eye disease using eye-scan images.
Artificial Intelligence analysis of medical images might significantly extend the reach of medical specialists to remote areas. Google is building an interface in India for doctors to input retinal images and receive a grade for diabetic retinopathy. The screening tool could save the vision of scores of people in a country where there is a shortage of 127,000 eye doctors and most patients suffer vision loss before they see a doctor.
While AI seems to hold endless possibilities for health care, for now the "who, what, where and when?" is up in the air. In the United States, electronic health records lack what AI needs: machine-learning capabilities and outcome data. Ultimately, the extent of adoption of artificial intelligence in health care might depend less on its potential and more on the quality of current health care options.
A recent report by PwC found that emerging markets were most open to artificial intelligence and robotics in health care. It found that, due to clinical shortages and a young, digitally savvy population, the Middle East could "leap frog" other countries.•
__________
Eilenberg is CEO of Indianapolis-based Lodestone Logic, a global pharmaceutical and health care consultancy.
Please enable JavaScript to view this content.