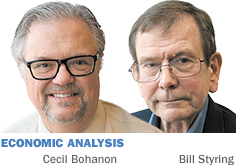 Most economists agree on quite a few things. Free exchange of goods and services, for example. If person X voluntarily agrees to exchange Y dollars with person Z for Good A, that's evidence that both X and Z think they're better off. That's how we get rich.
Most of us instinctively know this. Suppose you buy aspirin at Walgreens instead of CVS because it's cheaper (we're not saying it is). If CVS were to close stores because their expensive aspirin isn't selling, we might sympathize with the out-of-work CVS employees. But we'd think they just had the bad luck to work for the wrong employer. To "save" CVS jobs, suppose our politicians put a special tax on Walgreens aspirin in the name of "fairness." We'd be up in arms over such blatant pandering to a special interest.
But something strange comes over us when there's an international boundary involved. The principle of free exchange making everyone better off gets lost in a wave of "us" versus "them." Take Canadian softwood lumber used primarily in home construction. The U.S. is threatening a 20 percent tariff because the Canadian stuff is "unfair," or to put it more plainly, cheaper.
This isn't different from slapping a 20 percent tax on Walgreens aspirin. CVS and its employees would be better off, but Walgreens and its employees would be worse off. Aspirin consumers are 20 percent worse off. We wouldn't stand for such silliness.
With the lumber tariff, U.S. loggers are better off. Canadian loggers are worse off. U.S. new home buyers are worse off. How much worse off? Well, lumber is roughly 7 percent of the cost of a new house. On a $200,000 house, that's maybe $14,000 times a 20 percent tax, or $2,800.
Why do something that generates a net social loss? Politically, it's a winner. The politician calculates: "U.S. loggers will love me. They will know I 'fought' for them. They will vote for me." Canadian loggers? Hey, they're Canadian! They don't vote. All those U.S. new home buyers? "They'll never know. What real estate agent is going to stick out a sign saying, 'This House Costs $2,800 More Courtesy of U.S. Lumber Tax.'"
So off we merrily go. The U.S. Commerce Department is now threatening more tariffs, on aluminum, steel and Mexican sugar. Mexico says it will retaliate against U.S. corn syrup (Indiana corn farmers take note).
When the Protectionist Genie is let out of the bottle, he's hard to re-cork. We all suffer.•
__________
Bohanon is a professor of economics at Ball State University. Styring is an economist and independent researcher. Both also blog at INforefront.com. Send comments to ibjedit@ibj.com.
Please enable JavaScript to view this content.