By definition, the non-juried IndyFringe festival has a crapshoot quality. My advice to new Fringe-goers is usually to go to at least three shows and be fully prepared to hate at least one of them.

For the opening weekend of this year's fest, though, results were much better than expected. It can't just be that I'm getting better at selecting from among the offerings, because some of my decision-making was based on serendipity.

For instance, on Friday, Aug. 21, the first day of the festival, I was running late. So I chose a show based on the knowledge that, at 5:56, my best bet to get into a 6:00 show was to park near the Phoenix Theatre, where "55 Minutes of Sex, Drugs and Audience Participation" was about to begin.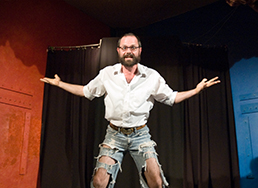 At top, IndyFringe, performers take to the streets to tout their shows. Above, Phil Van Hest (aka Phil the Void) proved a festival highlight. (Photos Courtesy Daniel Axler)

The show's pair of able storytellers, Loren Niemi and Howard Lieberman, added an element of randomness by passing a fishbowl through the audience, hot potato-like. The lucky/unlucky person who had it when the music stopped joined the duo on stage. A card was picked out of the bowl with a topic, and the third party could elect to either interrupt the ensuing story with questions or actually play a part in the tale.

Niemi's stories felt more carefully structured. Lieberman's were more emotional and less conclusive. Both dealt with unexpected aspects of the title topics. The only dud in the show was a final piece that was less story than observation and granted too much power to the audience guest.

I must admit, I've never seen a puppet operetta, let alone one that concerns a romance between a 16th-century woman and her hermaphrodite maid (the politically correct term is now "intersexed"). So I couldn't resist "The Tragical Ballad of Black Bonnet."

Clearly for adults, the half-hour "Black Bonnet" nonetheless had a riveting, child-like quality to it that made me wish it had run the entire hour. Instead, it was preceded by a far less effective short film created by the same company, a New Orleans-based duo known as The Black Forest Fancies.

A good first night.

My Saturday IndyFringe experiences were divided into two distinct parts. The afternoon was devoted to family-friendly fare, the evening to more adult matters.

I started with "humanature," an original music/dance/video piece by the Indianapolis-based group The (Re)Collective Co., which I've seen before. This time, I was even more impressed with the group's hypnotic musicianship but felt less of a strong connection between the players and the trio of dancers. The best moments occurred with a single dancer on stage.

Although I'd seen magician Taylor Martin before (he hosts the Indy Monthly Magic events at Theatre on the Square), I thought it time to see his Fringe act. "Andrea Merlyn's Greatest Hits (and missus!)," features the magician in three different drag personas (and abetted by two assistants) and opens with a fun story of a magical failure at a prestidigitation convention. The rest felt fairly familiar.

My only complaint about the wonderful Brent McCoy and his "Blunder Construction" show is that it's pretty much the same piece he presented 12 months ago—albeit more vocal. Last year, I called him a cross between Bob the Builder and Avner the Eccentric. He's always welcome back—I'd just like to see something new.

For my evening grownup double feature, I started with Matthew Roland's play "Another Classic of Western Literature." Outrageous, very funny and with more than its share of blistering lines, the play's strongest suit is a pair of smile-just-thinking-about-them supporting characters/performances. While God has appeared in many comedic plays and films, actor Rich Komenich and Roland come up with a truly original creation. The playwright himself, credited as Don Jamaica, offers an equally unforgettable performance as a middle finger. And the rest of the hand. It's that kind of play.

A sharply acted and directed climax and coda didn't quite bring things to a satisfying conclusion, but having a Fringe show premiere at this level of writing and acting helps elevate the fest.

The highlight of confessional storyteller Katherine Glover's solo show "A Cynic Tells Love Stories" was the tale of her brief marriage and the impact her seemingly healthy appreciation for past relationships (with both men and women) had on her jealous husband.

On Sunday, I opted for comedy.

The interactive two-hander "Wanda & Rhonda's Bitchin' Bingo Bash" should have been a lot more fun. But an actor struggling with scripted lines (attempted at a "Gilmore Girl"-ish clip) and an aimless script worked against the concept. Worse, the performers seeming anxious for the show and its audience-participation Bingo game to end, complaining of the lack of a winner before a half hour was up. Once a Bingo was called, they rushed to end the festivities at just after the 35 minute mark, squandering the goodwill of the audience.

IndyFringe vet Phil Van Hest's latest show, "Phil the Void—The Great Brain Robbery," dealt with our need for connectivity, a topic that led him into the Internet, the economic collapse, belching and naked hang-gliding. It was akin to a biggie-sized "Daily Show" opening rant (without the snarkiness) tempered with Lily Tomlin's "Search for Signs of Intelligent Life" sense of awe, cut with David Cross hipness, kneaded with Mort Sahl's brains, and tempered with Lenny Bruce's outrage. Outstanding.

I ended Sunday with a return visit to the Chicago comedy group "Cool Table" in a self-titled show. Coming out of the gate with a strong set of sketches where the character reactions earned as many laughs as the punch lines, the group petered out after about a half hour, limping to a lackluster "Thank you and good night." The crew didn't even bother to resolve a funny "Dudes helping dudes" running gag that begged for a kicker. No director was credited in the program, but the group clearly needs someone to step up and think beyond the individual sketches to the overall show.

Overall, a good start to this year's Fest (which ran through Aug. 30). For more Indy Fringe reviews, visit www.ibj.com/arts.•
__________

Visit ibj.com/arts for additional reviews, previews and arts discussion. Twitter: IBJarts