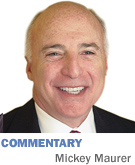 Luke Messer is running for the U.S. Senate. It is not official, but he's quoting Abraham Lincoln. That's a sure sign.
He sent a letter last month asking for a campaign contribution. After name-dropping Trump, Pence and Daniels, he crowed that he was the only candidate who could beat Joe Donnelly and "flip this Senate seat from Democrat to Republican."
Messer is among a plethora of conservative Republicans in Indiana, many of whom are rational and sensible on vital issues, particularly foreign relations, business and economics. I was honored to support Sen. Lugar and Gov. Daniels, both Republicans, but I bolted the party and voted for Democrat Joe Donnelly in the last election for this Senate seat in his race against Richard Mourdock. If you ask why, you haven't been following me in IBJ. I have grown to respect and like and continue to support Sen. Donnelly.
As I continued to peruse Messer's entreaty, I thought he would be a formidable opponent who deserved serious consideration should he emerge from the Republican primary against others fishing in these waters, including Congressman Todd Rokita and State Sen. Michael Delph.
Messer then blasted his general election opponent with, "Joe is a political opportunist who won't be afraid to stretch the truth in his effort to keep this seat and maintain the status quo." Hold it. Stop right there. Messer just called Joe a liar. He didn't accuse the senator of any particular lie but, worse, he generally besmirched Donnelly's character. Hoosiers are more than a year from casting votes in this race, and Messer has not even formally announced his candidacy. Yet he is already calling his opponent a liar.
It is interesting to note that while bashing Donnelly, Messer professes a desire to work with President Trump, whose exposed lies are more numerous than Indiana cornstalks in July. Also, Trump has no compunction about labeling others as liars, and much worse.
He referred to his primary opponent Ted Cruz as "Lyin' Ted" and to candidate Hillary Clinton as "Crooked Hillary." Trump's falsehoods won him PolitiFact's 2015 "Lie of the Year" award. Conservative New York Times columnist David Brooks called Trump "perhaps the most dishonest person to run for high office in our lifetimes." Trump continues to bestow upon those with whom he does not agree nicknames, including "wacko," "basket case," "nut job," and, recently "Crazy Mika" and "Psycho Joe."
The political history of America is fraught with vitriolic campaigns. The presidential election we just suffered through probably set a modern-day record for trash. Nonetheless, I am surprised by Messer's early campaign rhetoric. He calls himself a family man, and his campaign materials support that assertion with a photograph of his wife and three beaming children. Somehow that image of the Messer family in a bucolic meadow seems inconsistent with the invective directed by the family patriarch toward a potential political opponent, particularly one who does not engage in that practice. Is this the example Messer wishes to impart to his children?
Messer cited his work with then-Congressman Pence over the last decade, but Messer must not have studied Pence's political skills. I have disagreed with Pence on his positions while he was governor. We have hardly any common ground on social issues. But Pence has always been a gentleman, and I respect him.
Drop the crap, Luke. Let's hear your ideas. Don't vilify Sen. Donnelly. Tamp down the rhetoric and identify some of the many issues in which you can challenge him in vigorous but courteous debate. Agreeing to work with our president is laudable, but it's no reason to emulate his rank hostility to and denigration of political opponents. Because the Trump strategy worked last year, you may think it will continue to play well in Hoosierland—that it's all right.
It's really not all right, Luke.•
__________
Maurer is a shareholder in IBJ Corp., which owns Indianapolis Business Journal.  His column appears every month. To comment on this column, send e-mail to mmaurer@ibj.com.
Please enable JavaScript to view this content.