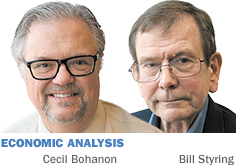 After the Cold War, we stopped referring to new socialist regimes as bad, old Soviet-style socialism. They're sold as "Democratic Socialism." Forget communism's pathetic history of misery and oppression. This will be different. This time we'll get Paradise on Earth.
That's how things started in Venezuela under the late Hugo Chavez, but the outcome was the same as always. Venezuela is a basket case. It isn't that Venezuelans are eating high on the hog. Common people aren't eating much hog—or anything else. Informal surveys indicate the average Venezuelan has lost nearly 20 pounds. The military has taken command of food distribution to ensure "fairness." Food shortages might be exacerbated by corruption in the military. But the more incisive analysis comes from Venezuelan economist Angel Alayon: "Nobody can distribute what isn't produced." Staying on the topic of hogs, pork production is down 71 percent from last year.  
Why doesn't this happen in Indiana? We produce a lot of pork. Answer: We don't have socialism. Socialism, by definition, suppresses market prices and incentives in an ever-descending cycle of state interventions to "fix" a problem caused by a prior state intervention. To fund government promises, the Chavez-Maduro government resorted to the oldest trick in the book. It printed money. The ensuing inflation made pork unaffordable, so on went the pork price controls. But feed prices continued to rise, so pork producers lost money and cut production. To "solve" this problem, price controls were slapped on animal feedstocks. But farmers couldn't make any money at that artificially low price, so they stopped growing stuff that hogs eat. Fewer little piggies made it to πmarket. 
We shouldn't be smug. Bohanon and Styring are old enough to remember the price-controlled economic mess of the 1970s, complete with Nixon-Ford era "Whip Inflation Now" buttons and Jimmy Carter's "national malaise."
We came to our senses before anything as bad as Venezuela hit us. But we were headed there. Shortages (anyone remember gas lines?) and chaos were real prospects. On paper, price authorities should be able to set prices so that everyone gets fed and necessities get produced. In reality, price czars never have the knowledge to set the hundreds of thousands of constantly changing prices to mimic what markets do automatically.
Makes no difference if it's USA Midwest circa 1971 or Venezuela 2017. Certain economic principles are like gravity: They apply everywhere. Set prices below market and you get shortages.
And you wind up with the 82nd Airborne running Kroger.•
__________
Bohanon is a professor of economics at Ball State University. Styring is an economist and independent researcher. Both also blog at INforefront.com. Send comments to ibjedit@ibj.com.
Please enable JavaScript to view this content.